Canada's Economic Action Plan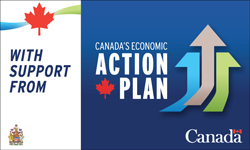 Canada's Economic Action Plan (EAP) was launched in Budget 2009 to fight the effects of the global recession. By concentrating stimulus spending over a two years, the Government of Canada was able to quickly turn the economy around and create jobs.
The Economic Action Plan infrastructure programs that were delivered by Infrastructure Canada helped communities across the country by funding projects that were ready to start quickly. This funding enabled communities to repair roads and bridges, build public spaces, invest in community facilities and improve drinking water facilities.
The majority of Infrastructure Canada's Economic Action Plan projects were completed by March 31, 2011. The Government of Canada extended the deadline for the completion of Infrastructure Canada's Infrastructure Stimulus Fund and the Building Canada Communities Component Top-Up by one full construction season to October 31, 2011 to allow sufficient time to complete remaining projects. The extension ensured timely and responsible project completion while allowing greater flexibility for partners.
The Economic Action Plan also included the Green Infrastructure Fund to target projects that would improve the quality of the environment and lead to a more sustainable economy over the long term.
Going forward, investments made through Canada's Economic Action Plan will continue to benefit Canadians through a legacy of modern public infrastructure.
For more information, visit Canada's Economic Action Plan website.
Date modified: