Greater Victoria, British Columbia

Executive Summary
"Data has the power to transform our communities, but only when it is valued less as a commodity and more for its potential to improve citizens' lives. This is the driving ethos of our Smart South Island Inspiration Centre."
– Mike Palmer, Co-Chair SCC Data and Privacy Taskforce, Chief Information Officer, City of Victoria
"There is a desire and a collective belief that this is going to not just be a shelf project— that we are going to DO something."
– Erinn Pinkerton, President and CEO, BC Transit
Challenge Statement
"Freedom to move"
We will collaboratively create a multimodal transportation network that is convenient, green and affordable, which will boost South Islanders' mobility wellbeing score by at least 20%.
Summary
We wish to acknowledge we are on the traditional territory of the Coast Salish First Nations.
A Smart City is comprised of countless elements. It is challenging to decide which initiatives to pursue, and what to leave for later.
While our ambition was to work on initiatives on multiple fronts, we saw that as a recipe for mediocrity. We want to create something great, which other cities will emulate.
That's why we chose to go deep on transportation.
Greater Victoria is not a big city by population. It is, however, an important city strategically. Canada's 15th largest metropolitan area. A $5 billion high-tech sector. Located in one of the world's most progressive and innovative regions: The Pacific Northwest. A gateway to Asia. A place where forward-thinkers thrive. A place people visit and tell their friends.
We want Greater Victoria to showcase how mobility can be done right. How everybody should enjoy the freedom of mobility. How all points of friction can be eliminated between multiple modes of transit, even in a single trip. How big data, big ideas, and big thinkers can make a big difference in quality of life, while reducing the impact that cities have on the environment.

Spotlight on Finalists:
Greater Victoria, British Columbia
Population: 367,770
Focus Areas:

Prize Category: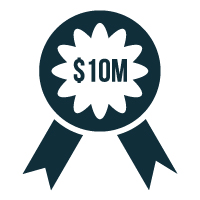 #smartcitiesCanada
The Jury's Perspective
Read the transcript

My name is Carol Anne Hilton. I am the CEO of the Indigenomics Institute.

I was inspired to be a juror for the "Smart Cities Challenge" because I see the importance of driving a future reality and the possibility to focus on solutions today that are scalable, inclusive and open are an important pathway to be able to do that.

What inspired me about the Greater Victoria application was the vision of the smart city approach to establish a multimodal transportation network with seamless mobility options and data integration with a focus on increasing mobility wellness in the region.
The Finalist's Perspective
Read the transcript

The smart cities challenge is a competition that called in Canadian communities to explore how data and connected technology can achieve meaningful outcomes for residence.

On screen:

Smart Cities Challenge

Winning communities

School

The finalists

$10M category: Greater Victoria, British Columbia

Tell us about your team and your community

Emilie de Rosenroll (Founding CEO, South island Prosperity project): we're an organization called the South Island Prosperity project. So, this is a partnership organization that brings together 10 of our 13 municipalities, 3 post-secondary institution, 5 first nation communities, 5 industry and businesses associations, 20 of the largest employers of the region and a really big partnership between private sector and public sector.

On screen: Why did you enter the challenge?

Emilie de Rosenroll (Founding CEO, South island Prosperity project): we entered the challenge because we wanted to find a solution that was collaborative and work for citizens. So, we wanted to be able to find a solution for transportation mobility which we think is an economic issue and environmental issue and a social issue.

On screen: Challenge statement: "Freedom to move"

We will collaboratively create a multimodal transportation network that is convenient, green and affordable, which will boost South Islanders' mobility wellbeing score by at least 20%.

Join the conversation: #smartcitiesChallenge

Infrastructure Canada
Date modified: