$50 Million Prize Category Winner: City of Montréal, Québec
$50 Million Prize Category Winner: City of Montréal, Québec

Success Stories
Want to see how Montréal in Common is impacting its residents? Check out the stories below:
For more information, visit: Montréal in Common: The city as a laboratory.
Final Proposal
Executive Summary

"Citizens most naturally identify themselves at the neighbourhood level when defining their reality. This is also the level at which they have the ability to change things."

– final proposal

"We want to make neighbourhoods more dynamic and inclusive, where mobility is a driver of social cohesion and collective action, and where vulnerable populations have better access to quality food."

– finalist video

Challenge Statement

The Montréal community is shaping an efficient and dynamic neighbourhood life by innovating mobility and access to food. Through a co-creation and citizen participation process, the accessibility of services and the well-being of Montrealers are increasing significantly.

Summary

The city of Montréal and 36 project owners and partners are committed to take action on systemic issues of urban life including mobility and access to food so that all Montrealers may enjoy a pleasant quality of life where their basic needs are met.

Technology will allow us offer Montrealers efficient and sustainable transportation alternatives, thus reducing automobile usage. As a result, neighbourhoods will become more enjoyable places, conducive to a rich and local way of life.

An improved public transportation offering associated with new and innovative forms of mobility (car sharing on-demand, autonomous vehicles, bike sharing, etc.) will reinforce the access to local services, most notably to food supply.

As a complement to the technological dimension, transversal projects in governance and citizen engagement will ensure the responsible deployment of technologies, given that they will be derived from collective decision-making, thus preventing abuse in terms of data collection and usage.

The combination of a participative and technological approach framed by innovative and agile governance will not only concretely improve the lives of Montrealers, but will bring about profound, sustainable change which may be applied to other contexts.

Spotlight on Finalists:
Montréal, Québec
Population: 1,704,694
Focus Areas:

Prize Category: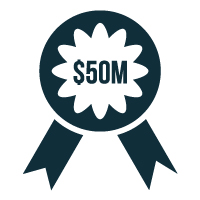 #smartcitiesCanada
Report a problem on this page
Date modified: