Infrastructure Project Signage Guidelines
Digital Sign Options
---
Where digital funding recognition is used, caution should be exercised to respect the principle of equal recognition of all funding contributions. A similar approach would need to be used for other partners.
Website Buttons/Icons
For project web site use, the following web icons can be used. If used, they must link to the following web page: http://www.infrastructure.gc.ca.
The web button selected should align with the related main federal funding stream: green, social, public transit, trade and transportation, or rural and northern infrastructure. A general municipal infrastructure icon is also available for instances where the project does not easily tie to one of the main funding streams. To help guide the selection of the right icon, a table that links project categories to the five main funding streams is available in Annex A.
For each English web button, there is a corresponding French button for French web sites.
Small Vertical Button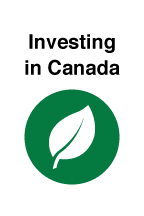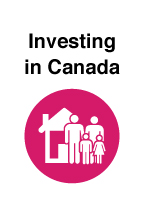 Small Horizontal Button

Medium Horizontal Button

Social Media

Social media can also be used in addition to physical signage or in instances where physical signage may not be appropriate. For example, Twitter and Facebook are potential means of recognizing the funding contributions of governments.
Twitter is a good way to acknowledge the funding contributions of each contributor. These should

be timed to coincide with other milestone project announcements or events,
Include a link to the joint funding news release,
include the following Twitter hashtags:

#BuildingOurCommunities (in English Tweets) or
Le #BâtirNosCommunautés (in French Tweets) and
#infra

Below are examples of English and French Tweets. These could also be posted to a Facebook account.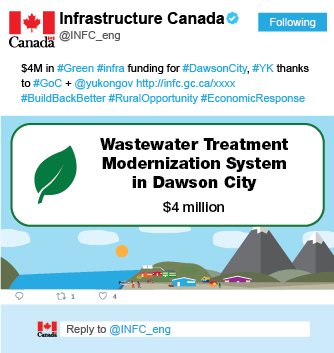 Information Board Signs
Digital versions of the multi-partner physical sign can also be placed on interior information boards. The digital sign should remain in place for a minimum of 30 days once the infrastructure is open to the public for its intended use.
---
Date modified: