The Gordie Howe International Bridge Project
The Gordie Howe International Bridge Project
About the Project
The Gordie Howe International Bridge project is the largest and most ambitious bi-national infrastructure project along the Canada-United States border.
It will provide for the safe, efficient and secure movement of people and goods across the Detroit River to support the economies of Ontario, Michigan, Canada and the United States.
This project will provide an additional crossing option at one of the busiest Canada-U.S. commercial border crossings.
The bridge will be publicly owned by both Canada and Michigan, and delivered by Windsor-Detroit Bridge Authority through a public-private partnership (P3).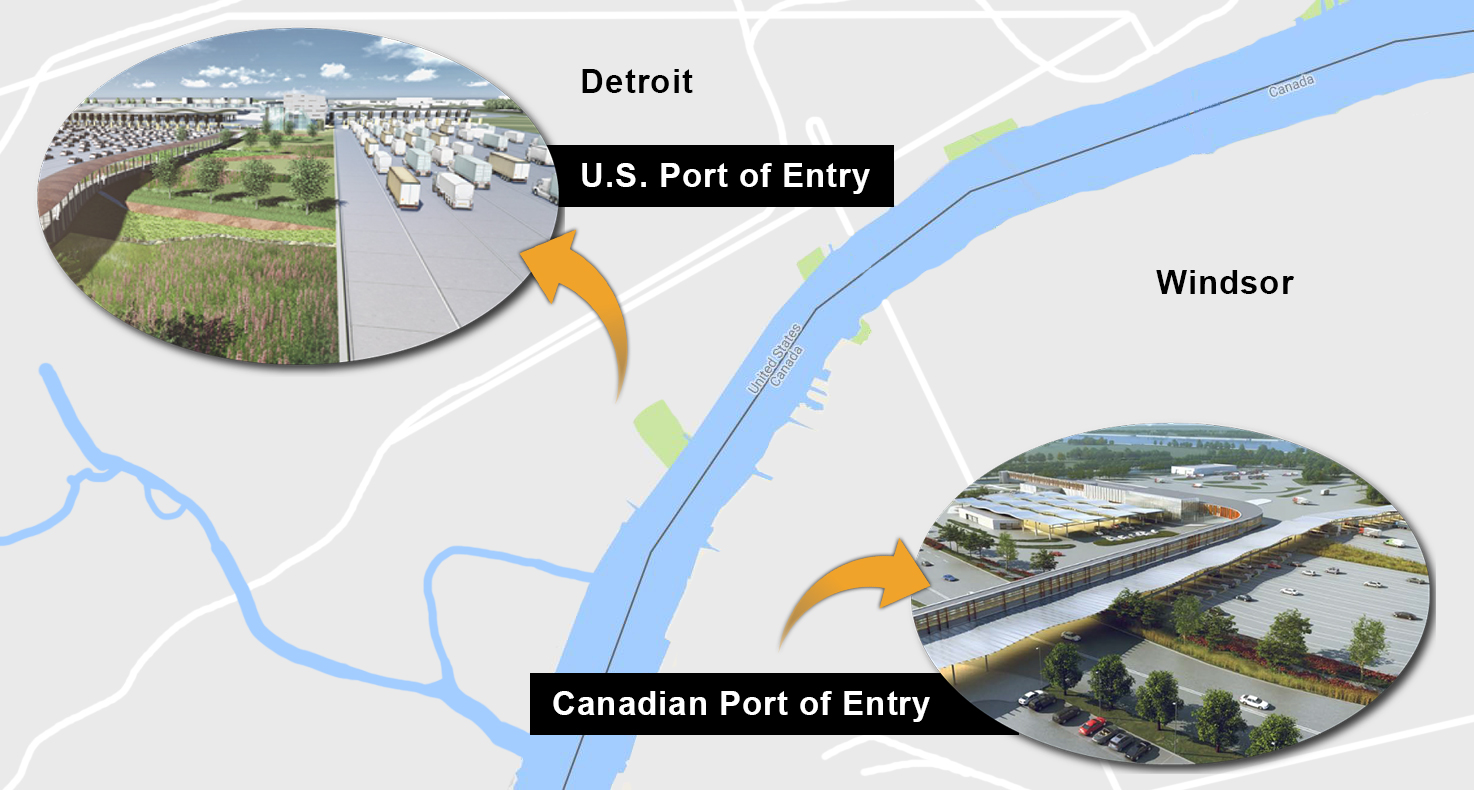 Aerial view of Gordie Howe International Bridge Ports of Entry
Project Components
Gordie Howe International Bridge: Single span structure with six lanes for vehicular traffic, and a multi-use path to accommodate pedestrians and cyclists
Canadian Port of Entry: 53-hectare site
U.S. Port of Entry: 60-hectare site
I-75 Interchange: New connection to Interstate 75 in Michigan
Long Description of Image 1: Gordie Howe International Bridge infographic

Canada is working in close partnership with the U.S., Michigan and Ontario governments to build the new crossing.

The Windsor-Detroit trade corridor is the busiest commercial land crossing on the Canada-U.S. border, handling 25 per cent of Canada-U.S. trade carried by truck.

Last year, more than 2.6 million trucks crossed the Windsor-Detroit border carrying more than $130 billion in goods.
Economic Prosperity
The construction of the Gordie Howe International Bridge will directly create thousands of jobs in Ontario and Michigan. It is anticipated that local businesses will supply goods and raw materials during construction, which will provide regional economic benefits and additional employment opportunities in the area. Many permanent jobs will be created for the operation and maintenance of the bridge and Ports of Entry once open.
With direct connections to Ontario's Highway 401 and Michigan's Interstate 75, the bridge will provide the capacity to increase trade and encourage investment between Canada and the U.S., supporting the largest bilateral trading relationship in the world.
Roles and Responsibilities

The Government of Canada is funding the entire project.
Infrastructure Canada is responsible for providing oversight and due diligence to ensure the project continues to comply with government direction and with the 2012 Canada-Michigan Crossing Agreement.
Other Canadian federal bodies involved in the project include Canada Border Services Agency, and the Canadian Food Inspection Agency.

Headquartered in Windsor, Ontario, Windsor-Detroit Bridge Authority (WDBA) is a not-for-profit Canadian Crown corporation which reports to Parliament through the Minister of Infrastructure and Communities.
WDBA is responsible for the implementation of the project, which is being delivered through a public-private partnership (P3).
WDBA selected the P3 partner and manages the P3 project agreement. WDBA is also responsible for project oversight including construction and operation of the new crossing.
Follow WDBA on social media:
Report a problem on this page
Date modified: