ARCHIVED - Gas Tax Fund
National GTF Investments
Archived Content
Information identified as archived is provided for reference, research or recordkeeping purposes. It is not subject to the Government of Canada Web Standards and has not been altered or updated since it was archived. Please contact us to request a format other than those available.
During the first few years of the program, $1.1 billion flowed to the provinces and territories. Of this, more than $900 million has since been received by municipalities for 2,234 projects across the country. In the first year alone, $118 million was spent on municipal infrastructure projects.
Provinces, territories and municipalities have together banked $685 million and earned approximately $16 million in interest. Administration costs over the past three years have roughly totalled $3 million. The marginal administration cost compared to the interest earned has meant additional dollars for projects over and above the municipal allocations.
Water and wastewater infrastructure is by far the largest investment category in terms of spent and committed funds for projects, followed by public transit and local roads. On the other end of the spectrum, investment dollars in solid waste, community energy systems and capacity building are among the least accessed investment areas.
More than 85 percent of all GTF dollar investments through 2007 focused on the renewal and expansion of existing infrastructure. New infrastructure represents a much smaller portion of investment dollars mainly in the areas of active transportation and recycling.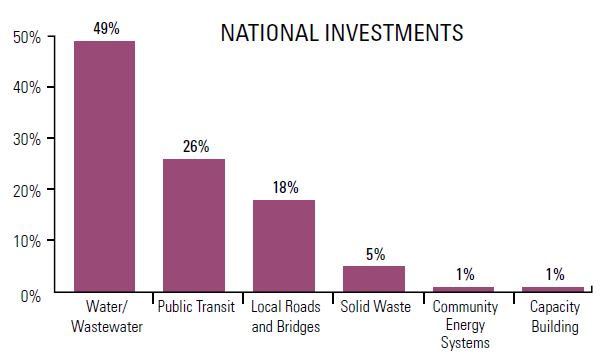 Water and Wastewater
The largest investment area under the GTF is the water and wastewater category. Investments have been made in 1,048 projects, representing $412 million or 49 percent of total Gas Tax funding to date. As most regions in Canada developed their water and wastewater systems decades ago, many of these systems are now near the end of their useful life. As such, it is not surprising that rehabilitation accounts for 69 percent of water and wastewater projects.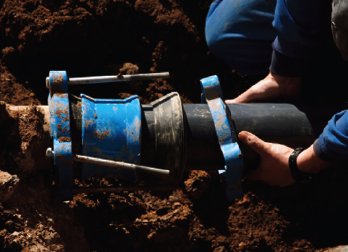 Most projects focus on the rehabilitation of supply, distribution and collection systems. Upgrades to storm water systems seem to be the most prevalent. In addition, in many multi-purpose projects, communities rehabilitating roads take the opportunity to replace older underlying water or wastewater pipes. With the better maintenance and modernization of inefficient water mains and systems comes better water conservation — and the more effective and efficient use of one of our greatest national resources. These investments ensure that Canadians have access to safe drinking water.
Public Transit
Public transit infrastructure is the second largest investment category under the GTF program. Investments have been made in 58 public transit projects representing more than $217 million or 26 percent of total GTF dollars. Public transit infrastructure is the second largest investment category in the program. Spending trends indicate that transit investments focus on expansion and renewal of existing service systems, through the purchase of buses, rapid transit vehicles and trains. Service-level improvements also occur through the construction of new transit exchanges, new bus lanes and better pedestrian and bicycle access.
Bigger cities have been the heaviest investors. Five of Canada's largest cities — Toronto, Vancouver, Edmonton, Calgary and Ottawa — are using their GTF allocations to improve public transit. For example, the City of Toronto will receive $407 million from the inception of the program until 2010; the Greater Vancouver Regional District will receive $307 million; and the Province of Quebec is set to spend $222 million of GTF dollars on public transit, with the City of Montréal receiving $161.1 million of that amount. Current transit spending favours rolling stock, including buses, shuttles and trains.
GTF investments in public transit systems improve the mobility of people and reduce traffic congestion, greenhouse gas emissions and air pollution. These investments are also critical to the economy and the quality of life in our cities.
Local Roads and Bridges
For local roads and bridges, investments have been made in 786 projects representing $147 million or 18 percent of all GTF dollars. Investments in local roads and bridges are, to an overwhelming degree, directed toward the rehabilitation and renewal of existing roads. Very little in Gas Tax Funds is being used to build new roads, but rather to repair existing roads.
Active transportation including cycling and walking paths, and sidewalks is a significant sub-investment area ($7.7 million) of the local roads and bridges category representing much of the new investments nationally.
Investment trends also show that while larger municipalities opt to invest in public transit, Canada's smaller urban (under 500,000) and rural centres invest in roads.
While the parameters of the GTF program favour investment in transit, the GTF supports investments in road and bridge infrastructure to minimize environmental impacts, improve efficiency and encourage the development of active transportation. Given the Canadian economy's dependency on a seamless flow of people, goods and services through efficient transportation systems, the GTF's flexibility has provided for a balance between addressing local infrastructure needs and national sustainability outcomes.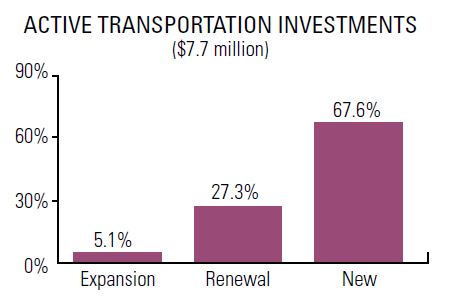 Solid Waste
In this category, 99 projects represent $43 million or 5 percent of total GTF investments. But, unlike any other category, the majority of investments go toward new projects versus the renewal of existing systems, with waste diversion and recycling as a growing focus. Despite this trend, landfill site restoration is also a common project area.
The landfills, which are faced with increased amounts of solid waste, pose numerous environmental threats. Poorly managed sites can contain high levels of toxic chemicals that may leak into the surrounding environment including water sources. Landfills are also a source of methane — a greenhouse gas — and other types of air pollutants.
GTF dollars are put to work to reduce the quantity of waste going to landfills and improve the processing of solid waste to reduce environmental impacts. Some innovative projects also include processes to transform waste into useful products and energy.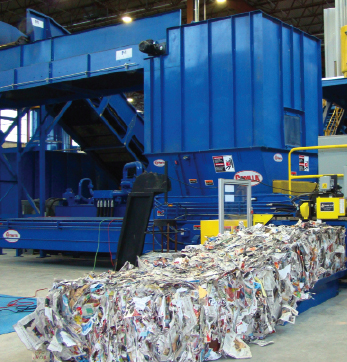 Community Energy Systems
The 116 projects in community energy represent $11 million or one percent of total GTF investments. As with other categories (except solid waste), community energy focuses on renewal projects, with the vast majority of investments going toward energy conservation projects and building retrofits. Energy generation, for the most part, is represented by two or three large projects in wind and solar energy.
While modest in comparison with other GTF investments, community energy is important in Canada's efforts to increase the clean energy supply and conserve existing energy systems to improve air quality and reduce greenhouse gas emissions.
Capacity Building
Capacity building is an eligible category under the GTF that provides financial support to communities in the development of their long-term planning. Capacity building has been instrumental in allowing municipalities to develop their integrated community sustainability plans (ICSPs). In addition, this category provides municipalities with "seed money" to support infrastructure projects that require research and partnership development.
Although this category is one of the smallest investment areas, investments have been made in 127 projects, representing $6.9 million or one percent of total GTF dollars. To date, much of the capacity building funding has been used for studies and background research for specific projects within core investment areas; however, a growing number of small and remote municipalities are accessing funds for the development of ICSPs.
Date modified: