Our Associate Deputy Minister -
Yazmine Laroche
Associate Deputy Minister of Infrastructure and Communities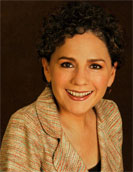 Yazmine Laroche was appointed Associate Deputy Minister, Infrastructure and Communities on November 25, 2013.
Ms. Laroche has over twenty-five years experience in public policy, program design and delivery, communications, strategic planning and corporate management, having served in a variety of federal government departments including Communications, Canadian Heritage, the Canada Information Office, Privy Council Office, Treasury Board Secretariat and Infrastructure Canada. She began her public service career as a junior communications officer in Transport Canada. She was appointed as an Assistant Deputy Minister in 2000. In 2004, Ms. Laroche joined the Privy Council Office to develop the Government of Canada's New Deal for Cities. In 2009, she was appointed Assistant Deputy Minister, Executive Policies and Talent Management in the Office of the Chief Human Resources Officer.
Ms. Laroche is a graduate of Carleton University and the proud daughter of Canadian aviation pioneer, Rocky Laroche.
Date modified: