Infrastructure in Prince Edward Island
Programs
Allocation: $277 million
A total of $78 million in federal gas tax funding will flow to Prince Edward Island municipalities from 2014 to 2019.
Projects since 2007: 3
Federal contribution: $13.3 million
Total eligible cost of projects: $31.1 million
Projects since 2007: 62
Federal contribution: $21.2 million
Total eligible cost of projects: $66.0 million
Projects since 2009: 1
Federal contribution: $2.1 million
Total eligible cost of projects: $6.3 million
Total allocation since 2007: $175 million
Federal funding committed: $175 million
Projects since 2009: 20
Federal contribution: $16.0 million
Total eligible cost of projects: $33.9 million
Project profiles in Prince Edward Island
Learn more about some of the projects in Prince Edward Island by selecting a community name:
New multi-use trail a step in the right direction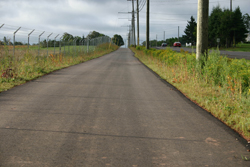 Project location: Brackley
Brackley is a small rural farming community just north of Charlottetown. Thanks to financial support from two federal funding programs—the Gas Tax Fund and the Public Transit Capital Trust Fund—residents now have a multi-use trail that runs along Route 15.
The 2.6-kilometre trail provides walkers, runners, cyclists and roller-bladers with a safe place to enjoy more active forms of transportation. Before the trail was constructed, local residents had to use the road's shoulder, directly alongside traffic.
The new trail promotes physical activity and gives users direct access to Brackley Commons, the town's recreational centre, the province-wide Confederation Trail and Charlottetown's city limits.
These federal programs work at the local level to support a cleaner environment and more sustainable future for Canadians.
Essential bridge replacement helps protect Cardigan estuary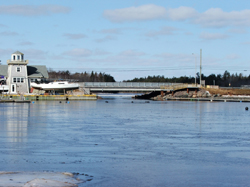 Project location: Cardigan
Cardigan is a scenic little village located on the Confederation Trail along the Cardigan River, one of three local rivers that converge to form a designated Canadian Heritage River System.
The Cardigan River Bridge is important to many aspects of village life.
"The ability to enjoy the local scenery and … easily travel between the various services located in the downtown area of the Village is incredibly important to businesses and the community at large," commented Jimmy Mooney, Administrator of the Village of Cardigan. "Symbolically, the bridge represents the coming together of families, friends and a community."
The bridge had become a safety concern after surpassing 60 years in service. But with financial help from Canada's Gas Tax Fund, the community replaced it.
The new bridge includes a sidewalk to increase pedestrian safety. The longer 25-metre span reduces water stagnation and this helps improve water quality in the Cardigan estuary.
The federal Gas Tax Fund provides predictable, long-term funding to help Canadian municipalities build and revitalize public infrastructure. Projects are chosen locally and prioritized according to the infrastructure needs of each community.
New convention centre boosts tourism and economic development
Project location: Charlottetown
In 2006, a Tourism Charlottetown and the Prince Edward Island Convention Partnership study identified that PEI's limited convention space was the primary factor inhibiting the sector's growth.
Thanks to an investment from the Major Infrastructure Component of the Building Canada Fund, Charlottetown's historic waterfront now has a striking new convention centre that is expected to significantly boost commerce and tourism in the region.
The new Prince Edward Island Convention Centre can accommodate 3,000 reception guests and is attached to the Delta Prince Edward Hotel to bring as many services and conveniences as possible together under a single roof.
The building has an elegant undulating roof and features floor-to-ceiling glass windows that provide stunning views of the City's seaside vistas. The Centre also offers an outdoor patio that can accommodate approximately 600 guests.
Complemented by Prince Edward Island's many other tourist attractions, the expanded convention centre is expected to become a destination facility and usher in a new era of economic development for the province.
David MacInnis, Chairman of the Charlottetown Area Development Corporation, which owns the new facility, highlighted some of the Centre's many benefits: "This is a state-of-the-art facility that will put PEI on the convention planner's map. The Centre will give people from around the world the chance to experience classic Maritime hospitality simultaneously with the best in modern convention services."
Business and tourism spin-off benefits are expected to be felt right across the region.
Federal contribution: $8,656,054
Charlottetown Perimeter Highway upgrades completed
Project location: Charlottetown
The Charlottetown Perimeter Highway was built to accommodate longer distance, high-volume, high-speed traffic around the perimeter of Charlottetown, and between the Towns of Stratford and Cornwall. As Charlottetown and these two towns grew, demand increased for the highway to also accommodate local, short-distance traffic. To address traffic congestion during peak hours, the City carried out several key upgrades.
Workers expanded the Charlottetown Perimeter Highway to four lanes from St. Peters Road to Malpeque Road, and from Murchison Lane to Park Street. They also added new turning lanes to the St. Peters Road intersection, widened the Oak Drive Overpass, and upgraded the Exhibition Drive and Garfield Street intersections to better accommodate heavy traffic. Finally, other sections of the highway were milled and re-asphalted to repair the road surface.
"This project will improve efficiency along one of the busiest sections of highway on Prince Edward Island. But beyond that, projects like these provide jobs and boost the economy on the Island. The Government of Prince Edward Island is very pleased to have been able to partner with the federal government to make these highway expansions a reality," said Ron MacKinley, Minister of Transportation and Public Works.
This work has prolonged the lifespan of the road and improved public safety. With less idling, greenhouse gas emissions are also being reduced, and fewer ruts mean less repair bills for car owners from wear and tear.
Federal support for this project came from the Infrastructure Stimulus Fund, one of several contributions programs managed by Infrastructure Canada.
Federal contribution: $7,300,000
New walkway for Confederation Centre
Project location: Charlottetown
With $525,000 from the Communities Component of the Building Canada Fund, access has been improved to Charlottetown's Confederation Centre of the Arts.
While its name and location honour the Fathers of Confederation, the Centre's stages and exhibit areas foster and celebrate the performing and visual arts.
Conference space, a municipal library and restaurant facilities all add to the traffic circulating to and from the facility. But accessibility to the Confederation Centre by people on foot and routine pedestrian traffic on sidewalks along the Centre's access points was not as high as it could be.
To increase visitation and awareness of the Centre and its many programs, a new underground walkway has been built connecting the Centre to the popular nearby shopping mall.
"This walkway [has provided] a new level of accessibility and exposure for patrons of the Confederation Centre of the Arts," said Mike Cochrane, the centre's Chief Operating Officer. "Once the new hotel planned for the mall is built, the pedestrian link will also expand demand for convention services at the centre."
The Grafton Street Pedestrian Pedway project is part of a long-term revitalization plan to increase tourism and promote economic development in Prince Edward Island.
Federal contribution: $525,000
University Avenue traffic flow improvements
Project location: Charlottetown
The project to widen the two-lane portion of University Avenue—a main artery into and out of the heart of Charlottetown—was a critical piece of the City's infrastructure development.
"As Charlottetown has grown," said Mayor Clifford J. Lee, "this two-lane artery has caused traffic tie-ups. This project will significantly improve traffic flow into and out of the downtown core. Better traffic flow brings with it the economic benefits of easier travel to some of the City's bustling shopping districts, the University of Prince Edward Island campus and the Capital Area Recreation complex."
Thanks to an investment under Building Canada's Community Component, together with provincial and municipal funding, this project is now complete.
While widening the avenue to reduce congestion was the main focus of this $6.3 million project, other benefits include improved road drainage. Pedestrian safety has also been improved thanks to a new sidewalk along the west side of the road and improvements to the traffic signal system.
Federal contribution: $2,100,000
Federal Gas Tax Fund helps "green" municipal building in PEI
Project location: Crapaud
Home of the Prince Edward Island Tractor Pull Championships, Crapaud is a picturesque little village located halfway between the iconic Confederation Bridge and the outskirts of Charlottetown.
With a population of only about 350 and limited resources for infrastructure development, the Village must make wise use of its annual allocations from the federal Gas Tax Fund.
One project village officials made a priority was an update to the energy systems of the South Shore Professional Building. This key municipal asset had undergone few significant renovations over its 25 years of service and was due for an environmental make-over.
Several energy-efficiency improvements were found to be an economically viable way to modernize the building. Workers replaced the hot water boiler, added new windows and doors, updated the roof, insulation, and lighting systems, and installed programmable thermostats.
With these improvements the Village has lowered the building's operating costs and energy consumption, and helped reduce greenhouse gas emissions in the community at large.
Federal contribution: $52,796
New bus getting people moving
Project location: Cornwall
The Town of Cornwall is located just west of Charlottetown. The Trans-Canada Highway passes directly through the town and serves as a main connector to the provincial capital.
Despite its proximity to a major highway and Charlottetown, public transportation options in Cornwall were limited.
Thanks to an allocation from Canada's Gas Tax Fund, a new wheelchair-accessible bus addressed this challenge. The 35-passenger bus, equipped with a bike rack, allowed the region to expand its public transit system to complement the existing City of Charlottetown and Town of Stratford systems. The increased access and links to other systems made this environmentally friendly means of transportation a more viable option.
The new bus was very much welcomed by the town: "This represents a huge step forward for the Town of Cornwall," commented Marlene Hunt, Town of Cornwall Councillor. "To have a modern bus, equipped with a bike rack [that is] wheelchair accessible is wonderful. We are delighted with the support this project received through the Gas Tax Fund."
New recreational complex a hit with local community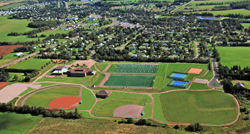 Project location: Cornwall
The Town of Cornwall is located in Queens County just west of Prince Edward Island's main transportation route between the Confederation Bridge and Charlottetown. Its central location, and residential and public infrastructure development has supported steady growth over the past few years.
One of the most visible benefits of recent community infrastructure initiatives is the Terry Fox Sports Complex. This premier new sporting venue features two baseball fields, four tennis courts, two beach volleyball courts and a toboggan hill. Two of the outdoor tennis courts also double as basketball courts.
The Terry Fox Sports Complex was made possible by financial support from the federal Gas Tax Fund and the Communities Component of the Building Canada Fund. Since it first opened to a huge crowd in September 2010, it has played host to numerous team try-outs, regular league games and regional tournaments.
As well as providing everyone in the region with new opportunities to stay active, it is helping youth adopt healthy lifestyles and local athletes excel in their respective disciplines.
Federal contribution: $996,784 from the Building Canada Fund + Gas Tax funding.
Complete street rehabilitation
Enhanced appearance, reduced maintenance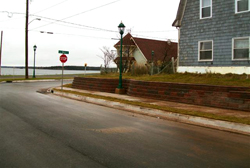 Project location: Georgetown
If conditions warrant, it frequently makes economic sense to co-ordinate infrastructure rehabilitation requirements into one project and only rip the streetscape up once. That's what they did in Georgetown when Council voted to rehabilitate the corner of Water and West streets by the waterfront.
As Prince Edward Island's only deepwater harbour and shipyard, the intersection saw more than its share of traffic from heavy vehicles, residents and tourists drawn to the waterfront. With $600,000 from the federal Infrastructure Stimulus Fund, Georgetown replaced storm sewers, sanitary sewers and watermains. Once the below-ground work was complete, crews went to work replacing the roadway, building improved curbs and gutters, and rebuilding sidewalks.
Mayor Lewis Lavandier is delighted with the results. Vehicular travel at the intersection flows more efficiently, leading to increased fuel economies, and pedestrian safety has been improved. The better storm drainage will also reduce his municipality's ongoing maintenance costs and the streetscape looks terrific. "All in all, this was a great project for residents, businesses and visitors to our community."
Federal contribution: $600,000
Saving the home of an iconic cultural event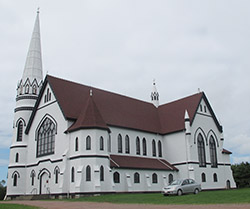 Project location: Indian River
A major Prince Edward Island cultural event, the Indian River Music Festival offers fine musical performances in the unique setting of St. Mary's Church. Since its inception in 1996, the festival has evolved into an internationally recognized event, offering both an artistic and historic experience for many tourists and local residents.
With the parish unable to pay for major repairs, however, the church had become derelict and was in jeopardy of being demolished. To ensure this didn't happen, festival organizers took it upon themselves to raise the necessary funds to preserve their venue and expand its hosting potential.
Thanks to a successful application for federal Infrastructure Stimulus funding, work is now complete on a project to transform the church into a permanent venue capable of hosting a variety of musical events.
Restoration work included repairs to the roof, doors and windows, site drainage, and other enhancements that will keep the church doors open for years to come.
Derek Huestis, Chair of the Church Restoration Committee, commented that, as uses for the facility evolve and the Indian River Festival continues to grow, so will the economic spin-offs, which will bring continued prosperity to Indian River, Kensington and other surrounding areas.
Federal contribution: $120,000
Better road, better market access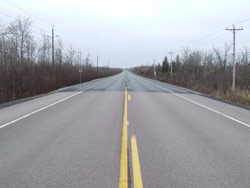 Project location: Lady Slipper
Route 2 is an essential road linking the far ends of Prince Edward Island and passing through a multitude of communities along its route.
In western Prince Edward Island near Lady Slipper, part of Route 2 was beginning to show its age. Structurally, it was also outdated as larger, faster vehicles and heavier traffic raised safety concerns.
The province successfully applied for up to $1.25 million from the federal Infrastructure Stimulus Fund, which it matched, before beginning work on six kilometres of Route 2 near Lady Slipper. The work involved cold milling, excavating and patching potholes and selected areas of the road surface, and repairing and rebuilding shoulders before putting down two additional layers of asphalt.
Julie Smith, Chair of the Community of Lady Slipper alluded to Route 2 as a "very important section of highway" connecting her community with the rest of the province. Having it "widened and rebuilt improves the safety of our community and allows products from our primary industries to move more efficiently" to markets.
Federal contribution: $1,250,000
Federal Gas Tax Fund helps Atlantic community address a growing problem
Project location: North Rustico
A new wastewater treatment plant in the Village of North Rustico will help the seaside municipality contend with Atlantic storm surges while keeping up with the needs of a growing community.
Located in the northern part of Queens County, North Rustico is a commercial hub for the region and has been enjoying some growth in recent years.
While a positive development, more people means more wastewater, which had compounded some issues with the community's wastewater treatment plant. The facility was too small to accommodate increasing volumes, and large storm surges sometimes led to untreated wastewater overflowing into the harbour; disrupting fishing activities among other problems. The plant was also situated in a community park – not the ideal location.
Thanks to the federal Gas Tax Fund, construction is now substantially complete on the new North Rustico Wastewater Treatment Plant. The new facility is larger, better equipped and located away from the park. It now has the capacity to handle increasing wastewater demands and anticipated storm surge levels.
By funding projects such as the new North Rustico Wastewater Treatment Plant, the federal Gas Tax Fund is helping communities prepare for the future while addressing their pressing infrastructure needs.
Fixing roads from top to bottom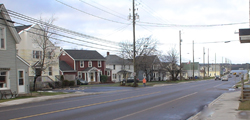 Project location: Souris
With help from the Infrastructure Stimulus Fund, the town of Souris has replaced a 1.2-kilometre section of Route 2 between Union Street and MacPhee Avenue. Crews also installed a new storm sewer system, curbs, gutters and sidewalks.
Aside from increasing the structural strength of Main Street and repairing road defects, a new drainage system ensures that water flows away from the road. This will help prevent excess moisture from prematurely damaging the new pavement.
Residents are very happy with the outcome. The new sidewalks mean pedestrians no longer have to walk on the road shoulder, while the wider streets and addition of turning lanes make the street safer for motorists too.
Federal contribution: $1,600,000
Keeping the rain out of a heritage building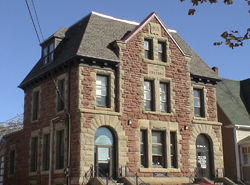 Project location: Souris
Founded by Acadians as a fishing port in 1727, the town of Souris is proud of its historic roots. While maintaining its heritage architecture is a priority for the community, coming up with the necessary funds to do so is not always easy.
For Souris, the federal Infrastructure Stimulus Fund presented an opportunity to get some much-needed work done on their historic Town Hall, which dates back to 1905. Only able to afford patchwork on its aging roof over the years, leaking had become an increasing problem, especially in the Council Chambers and over the main entrance.
By partnering with the federal government and the province, the roof has now been replaced, eaves and dormers repaired, and new gutters installed. Materials that were selected blend well with the existing architecture. The town couldn't be more pleased with the results.
While residents now have safe, dry access to the public library, Councillors can get down to discussions about municipal matters.
Federal contribution: $14,600
Federal Gas Tax Fund helps communities manage their assets more efficiently
Project location: Stratford
Geographic Information System data and aerial photography are important tools for community asset management. They are used to survey physical features such as parks, waterways, roads, building footprints, sidewalks, fire hydrants, culverts and even lamp standards. The information obtained is used to track inventories and monitor trends over time to help inform planning decisions.
Getting this kind of detailed data requires hours of expensive flying time, as well as many more hours for technicians to convert the information into products that clients can use. It is an expensive process, and the costs can be hard for smaller towns and villages to accommodate.
The communities of Stratford, Summerside, Cornwall, Montague and Kensington found that pooling their federal Gas Tax Fund allocations was a practical, cost-effective way to get the information they needed. Each community identified their specific needs, and then collaborated on a project to commission an aircraft and photographer to obtain the photos, and to process the data.
With this information at their fingertips, the communities can now map each asset in their area quickly and easily. The age, history and condition of assets can be verified with the click of a button, helping officials organize short-and long-term maintenance schedules and manage the life-cycles of municipal infrastructure more efficiently.
Keeping people safe and healthy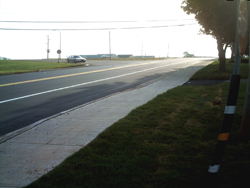 Project location: Stratford
A busy road with a mix of vehicles, bicycles and pedestrians means safety challenges. It's also not very conducive to promoting alternative modes of transportation.
Stratford decided bicycle lanes and sidewalks were the answer if the town's 7,000 plus residents and a burgeoning tourist population were going to be kept safe, physically active and using cars less. To accomplish its goals, the town applied to the federal Infrastructure Stimulus Fund for help.
Construction began in June 2009 on widening and extending existing road shoulders along a stretch of the Georgetown Road, linking the new bicycling path and sidewalk to the existing network of walkways.
The work was done in conjunction with a sewer and water upgrade along the same road.
Federal contribution: $300,000
Effective environmental controls
Project location: Summerside
With $1 million from the federal Infrastructure Stimulus Fund, the City of Summerside set to work to improve storm water management with a new sewer system.
The first phase of the city-wide project focused on upgrading sewers along six streets by installing new, dedicated storm water lines, catch basins and manholes. In resurfacing the street after completing the sewer work, crews also installed concrete curbs, gutters, and sidewalks.
In another part of town, a force main – a pressurized pipe carrying storm water and sewage together – was replaced. It had broken several times in recent years, creating the potential for environmental damage.
"By replacing the line we will no longer be discharging leaded sewage into a nearby stream," pointed out Phil Hardy, Municipal Engineer for Summerside, in relation to the many benefits of the projects. "As a result of the storm sewer projects the City can now treat storm water effluent before it reaches the receiving waters."
Pedestrian and vehicle safety has also been improved with wider, smoother roadways and new sidewalks.
Federal contribution: $1,000,000
Heritage Park and Gardens project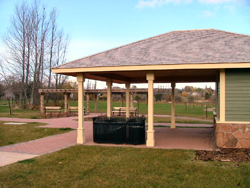 Project location: Summerside
The Heritage Park and Gardens project in Summerside has completed a vital pedestrian link along the city's waterfront. It joins the new Heritage Park Gardens and Trail system to the Provincial Confederation Trail system. Garden and tree planting, more walking paths and lighting in Heritage Park are all part of the improvements the Park now offers residents and tourists alike. The project also extended the boardwalks along the shoreline to enhance biking and walking opportunities.
"Summerside residents should see a drastic improvement to the park," commented Ron Dowling, Chair of Summerside's Technical Services Committee.
Federal contribution: $310,000
Keeping businesses competitive
Project location: Summerside
A former Canadian Forces Base with an aviation presence dating back to WWII, Slemon Park, located two miles from the City of Summerside and 12 miles from the Confederation Bridge to the mainland has become home to several companies specializing in aviation and aerospace, industries that now account for 25 per cent of the Island's international exports.
With a successful application for up to $250,000 from the federal Infrastructure Stimulus Fund, matched provincially, the PEI Department of Transportation and Infrastructure Renewal undertook some improvements for 1.9 kilometres of Aerospace Boulevard into Slemon Park.
The work involved re-milling and sealing the existing asphalt surface, widening road shoulders and making some landscaping improvements. The previously rutted and cracked roadway and narrower shoulders had made it difficult to move significant freight loads in and out of the Park.
The work has extended the life of the road by 10 to 12 years and made it possible for businesses operating from Slemon Park to move large freight loads quickly, safely and efficiently.
Diversified manufacturing, commercial and light industries, the Summerside Airport, a hotel and conference centre, restaurant and pub, and some residential housing complete Slemon Park's facilities and also benefit from the improved roadway.
Federal contribution: $250,000
PEI's south shore positioning itself for growth
Project location: Summerside
The City of Summerside, named for its sunny location on the south shore of the Island, is the second largest city in the province.
Since the closure of Canadian Forces Base Summerside in 1990, the community is focused on developing its local economy by aggressively courting new business opportunities. Part of attracting new business involves ensuring that the basic infrastructure these businesses will need is up to par.
With a contribution from the Communities Component of the Building Canada Fund, the federal government has now helped them meet this goal.
The project to upgrade a number of major collector roads throughout the City involved completely rebuilding road surfaces, applying new base asphalt, and raising road shoulders.
With work now complete, drivers are enjoying better traffic flow and reduced vehicle maintenance. For the commercial district, these improvements mean better access and increased prosperity.
Federal contribution: $466,467
Helping communities generate clean energy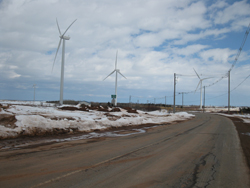 Project location: Summerside
Residents of Summerside are benefiting from greater access to clean, renewable energy thanks to federal investments through the Major Infrastructure Component (MIC) of the Building Canada Fund, the Municipal Rural Infrastructure Fund (MRIF) and the Gas Tax Fund (GTF).
The Summerside Wind Farm used the funding to purchase and install four new wind turbines at the St. Eleanor's site to boost the farm's performance.
It is now producing enough energy to meet more than 25 per cent of Summerside's annual electricity needs. This translates into savings of about $1 million that can go to other municipal priorities. The 12-megawatt wind farm also represents a big step in reducing reliance on fossil fuels and taking progressive measures to conserve the environment.
The Mayor of Summerside, Basil Stewart, indicated at the time of the project's announcement that … "the contribution and commitment to our city and this project will improve the environment while supplying green energy to our customers."
Federal contribution: $4.5 million from the Building Canada Fund + $1.9 million from the Municipal Rural Infrastructure Fund + Gas Tax funding.
Improving local roads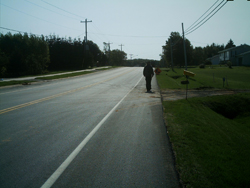 Project location: Tignish
In the Village of Tignish on the northwestern tip of Prince Edward Island, completing the repairs to a busy local road had become a priority.
Prior to the rehabilitation of Dalton Avenue, pedestrians and motorists had to deal with poor water run-off, and a cracked and rutted road surface.
The work included patching work, excavating the existing shoulder, adding storm sewers, infilling the road's ditches and laying new asphalt. Dalton Avenue now sports almost two kilometres of new sidewalk too.
Elmer Arsenault, former chair on the Tignish Council, called the addition of sidewalks and storm drains along Dalton Avenue a huge improvement: "The new sidewalk has improved pedestrian safety along this busy street and the new storm drains will greatly reduce any water problems that have occurred there over the years."
This project has extended the road's lifespan by 10 to 12 years.
Federal contribution: $450,000
New life for Prince Edward Island landmark
Project location: Tignish
For residents of Tignish, the local post office is more than just a place to post and pick up your mail. Constructed in 1911, it is one of the few heritage buildings left in this small fishing town.
Over the years, the building had deteriorated considerably. It also had safety and accessibility issues. With the help of a contribution through the Infrastructure Stimulus Fund, the building's past and future have now been restored.
The project focused on brick re-pointing, masonry work, repairs to the roof, and overall aesthetic enhancements. Wheelchair accessibility was also addressed.
The main floor of the building will continue to be used as a Post Office. The newly renovated second floor, which was vacant for the last 20 years, now houses commercial offices.
Colin Arsenault, Chair of Tignish Initiatives Corporation, commented that the restoration would not have been possible without the federal investment. It has helped ensure that this cherished landmark remains a vibrant part of the community for many years to come.
Federal contribution: $135,000
Keeping on top of repairs in rural PEI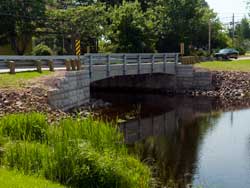 Project location: Wellington
The federal Gas Tax Fund is supporting the renewal of public infrastructure all over Prince Edward Island. The Fund provides predictable, long-term funding to help communities build and revitalize public infrastructure that contribute to cleaner air, cleaner water and reduced greenhouse gas emissions. Funded projects typically involve drinking water systems, wastewater infrastructure, public transit, community energy systems, solid waste management and local roads.
After more than 40 years of wear-and-tear, the Wellington Bridge, aptly named after the Village of Wellington in which it is situated, had reached the end of its service life and moved up the priority list for repairs.
Thanks to a portion of the Village's federal Gas Tax Fund allocation, the old steel structure was replaced with a longer concrete span bridge. Workers also installed new sanitary pipes and manholes leading up to the bridge, a new pre-cast concrete retaining wall, and resurfaced the road.
Strategic investments like these help communities stay on top of their infrastructure repair needs, a cornerstone of any strong, safe and prosperous community.
Town hall upgrades meets community's needs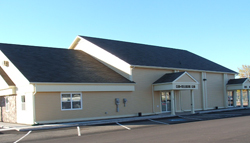 Project location: Wellington
The Village of Wellington is located in the heart of Prince Edward Island's francophone community on the Island's west side.
Central to this small but growing community is the Vanier Centre. It houses the Wellington Fire Department, a cablevision coop and the Firemen's Club. It also accommodates RCMP and community offices and has a hall for social events.
The outdated Centre had become too small for its many functions. Lacking sufficient finances for upgrades, the Village applied for a contribution from the federal Infrastructure Stimulus Fund.
The renovated building now features a fully accessible hall that can accommodate up to 150 people. It also has a new kitchen, upgraded bathrooms and electrical equipment. Extra boardrooms were added as part of the project as well.
"With the new Centre, the community is now better suited to attract new events and activities to the community and at the same time offers the residents a place that meets their needs," says Alcide Bernard, Project Coordinator and Past Chairman.
Federal contribution: $250,000
Date modified: