Project Profiles in Newfoundland and Labrador
Learn more about some of the projects in Newfoundland and Labrador by selecting a community name:
Improving the tourist experience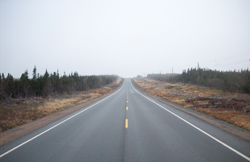 Project location: Bonavista
As the main trunk highway from the Trans-Canada to the very tip of the Bonavista Peninsula, Route 230 sees more than its share of tourists off to experience spectacular ocean views, visit several historic sites or watch a sunrise at this eastern point of Canada.
Always a hospitable host, Newfoundland makes safe and smooth driving surfaces a priority. Toward that end, the provincial Department of Transportation and Works successfully applied for up to $1.5 million from the Infrastructure Stimulus Fund to resurface and improve part of Route 230.
The funds helped pay for improved drainage, new culverts and guardrails, upgraded shoulders and fresh paving.
The upgrades greatly improved traffic flow and have reduced the need for spot repairs that also used to tie up traffic on a regular basis. This, in turn, has reduced maintenance costs.
Federal contribution: $1,500,000
Route 10's Irish Loop now a "dream to drive"
Project location: Cappahayden
Local residents and vacationers using Route 10's Irish Loop, near Cappahayden and Portugal Cove South, breathed a sigh of relief when road repairs wrapped up in December 2009. This section of the South Shore Highway is used by many local commuters heading to St. John's and visitors on their way to sites like the Avalon Heritage Coast.
With a federal investment from the Infrastructure Stimulus Fund, the province was able to expedite work to fix severe rutting and other long-standing problems along the route. Improvements included repaving, roadside ditch upgrades, guardrail repairs and the replacement of drainage structures.
With a stronger pavement structure and smoother surface, there will be less wear and tear for vehicles. Hydroplaning incidents have been greatly reduced. Traffic flow, commercial transport and emergency response times have also significantly improved.
Gertie Molloy, Chairperson for Cape Race-Portugal Cove-St. Philip's Heritage Inc., calls the new road a "dream to drive on and a definite improvement."
Federal contribution: $1,000,000
Improved visibility, safer travel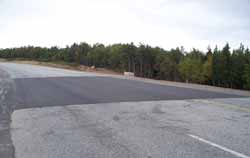 Project location: Crabbes River
Located about 95 kilometres north of the Port-aux-Basques ferry terminal on the Trans-Canada Highway, Crabbes River provides access to a rich camping and salmon-fishing back country that lures locals and tourists alike. The Trans-Canada, which serves villages like Crabbes River, also provides the essential link between the harbor at Port-aux-Basques and the rest of the province for the transportation of goods and materials.
Much of the traffic passes right by places like Crabbes River, but providing safe passage for outdoor enthusiasts is essential for the survival of many of these small communities. As such, an enjoyable trip along this part of the Trans-Canada is an important part of the experience.
The Government of Canada and the Province of Newfoundland and Labrador continue to work together to improve the Trans-Canada Highway in the province. This particular project involved $1.25 million from the Major Infrastructure Component of the Building Canada Fund, which has helped rejuvenate seven kilometres of the Trans-Canada near Crabbes River. Work crews cleared brush from the right of way to improve visibility, replaced old culverts, cold-milled asphalt and applied a new asphalt road surface.
Greater visibility means improved safety and a reduced risk of hitting a moose, a major problem along this heavily forested section of the highway. The trip into Crabbes River is now safer for residents and tourists, and long-distance truckers have more time to react to possible hazards.
Federal contribution: $1,250,000
Airport could land new business with longer runway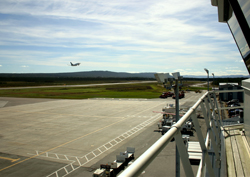 Project location: Deer Lake
The Deer Lake Regional Airport is located in the heart of some of the best adventure tourism opportunities in the world. Only minutes from the Town of Deer Lake and the City of Corner Brook, it is the gateway to the scenic Viking Trail on the Northern Peninsula and less than half an hour from the world-renowned Gros Morne National Park.
The airport serves Western Newfoundland with regularly scheduled passenger service to and from eastern and central Canada with connections worldwide. Until recently, however, it was one of only four among Canada's top 30 airports with a runway of less than 6,000 feet. This limited its potential to attract new business.
Thanks to a contribution from the federal Infrastructure Stimulus Fund, another 2,000 feet of runway has been added.
"It provides an enhanced operating environment for existing aircraft," said Jamie Schwartz, President and Chief Executive Officer of Deer Lake's Regional Airport Authority. "It also provides us with the opportunity to market the airport and establish new routes over longer distances with potentially larger aircraft."
Federal contribution: $3,000,000
Infrastructure to support new Deer Lake development
Project location: Deer Lake
The Town of Deer Lake is a regional tourism centre and transportation hub, but with an aging population, attracting more young families is a priority.
To support the development of modern new neighbourhoods and other community amenities and services, the Town invested into water and sewer upgrades on Bennett Avenue and Nicholsville Road. New water and storm sewer systems were installed, along with new curbs, gutters, sidewalks and pavement.
The new infrastructure is now in place to support Deer Lake's development plans, including an 88-room hotel and a 24-lot sub-division. Funding came in part from the federal Infrastructure Stimulus Fund.
Federal contribution: $560,634
Helping firefighters do their job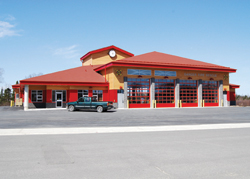 Project location: Gander
The 43 career and volunteer firefighters of the Gander Fire Department provide fire and rescue services to the Town of Gander and CFB Gander. They are also on call to provide assistance as needed to Gander International Airport and surrounding communities.
The job requires commitment and rigorous training that challenges crews both mentally and physically. But while the men and women of the Gander Fire Department were keeping their skills up to date, the building they were working out of couldn't keep pace.
The old fire hall lacked room for new equipment and adequate parking for emergency vehicles. Female firefighters did not have their own washroom and shower facilities, and the building didn't meet current safety codes. It also lacked the technological infrastructure to deliver current emergency services to a growing population.
Thanks to a contribution from the federal Infrastructure Stimulus Fund, Gander now has a brand new fire station.
Designed with future growth in mind, the new building has enough space to accommodate an on-site emergency operations centre, longer ladders and a hazardous materials trailer. Gander Mayor Claude Elliott is confident the new and improved fire hall will serve his community for many years to come, further describing it as modeling "the very latest technological standards."
Federal contribution: $1,666,667
Increasing student safety: Reducing maintenance costs
Project location: Gander
With several freeze-thaw cycles in the colder months, and high precipitation levels, the roads and below-ground infrastructure in Gander take a beating.
With $247,078 from the Communities Component of the federal Building Canada Fund, the town is making one neighbourhood safer.
Work crews have rehabilitated about 3.4 kilometres of damaged asphalt roadway near a school, replaced a collapsed storm water drainage system under it with more frost-resistant PVC pipe, fixed 1.6 kilometres of rough sidewalk, and built new curbs and gutters.
Mayor Claude Elliott calls the safety of the children attending the school a top priority. "Sidewalks have been replaced on both sides of Fraser Road for that reason. With so many children, cars and school buses moving about at the same time, cutting corners was not an option."
Federal contribution: $247,078
Vital transportation link upgraded
Project location: Grand Falls-Windsor
As the primary highway across Newfoundland, the Trans-Canada connects the primary, year-round trade harbour of Port aux Basques in the west with St. John's in the east and Argentia in the south. In its middle sits the economic hub of Grand Falls-Windsor.
Thanks to the Major Infrastructure Component of the Building Canada Fund, the Province of Newfoundland and Labrador rehabilitated about 16 kilometres of the Trans-Canada between Grand Falls-Windsor and Badger. One of many projects involving the Trans-Canada in Newfoundland, this particular stretch of highway received new culverts, repairs to guard rails and asphalt resurfacing.
All upgrades to the Trans-Canada greatly increase travel safety and efficiency. As an essential link for the flow of billions of dollars in goods to and from, and within the province, and for the important tourism industry, the revitalization of the Trans-Canada plays an essential role in promoting a strong provincial economy.
Federal contribution: $4,000,000
Community helps safeguard its drinking water thanks to the federal Gas Tax Fund
Project location: Harbour Grace
With a rich history that includes pirate legends and aviation pioneers, residents of the Town of Harbour Grace take pride in their roots. Maintaining the infrastructure that keeps this 500-year-old settlement on the Avalon Peninsula thriving today is also important to the Town.
They recently used their annual federal Gas Tax Fund allocation to replace their water chlorination system. The system was badly outdated, leading to chronic boil water advisories and the need for ongoing stopgap repairs.
Bannerman Lake is the source of Harbour Grace's fresh water. Because it is an open-water source, chlorination is considered the most suitable purification process. Chlorination is an effective and efficient disinfectant, keeping water free of pathogens throughout the underground pipe network at a relatively low cost.
The new and improved chlorination equipment has made local tap water reliably safe to drink again and will keep it that way for many years to come.
Roads upgraded in Labrador City
Project location: Labrador City
Labrador City is the Iron Ore Capital of Canada and the preferred location for companies providing service to developments throughout the Canadian Northeast. It is also a vibrant community with majestic scenery, exceptional recreational programming and facilities, and great hunting, fishing and snowmobiling opportunities.
Thanks to a federal investment of $1,190,476 from the Infrastructure Stimulus Fund, driving in Labrador City just got smoother. Work has been completed to remove and replace base and sub-base material, upgrade curbs, gutters and storm drainage, and repave sections of eight local roads that had severely deteriorated.
With these improvements, the city is better equipped to handle the mining industry's heavy truck loads, and residents and tourists are enjoying safer road conditions and reduced vehicle maintenance costs.
Federal contribution: $1,190,476
Rehabilitating major truck route
Project location: Lewisporte
Lewisporte on the northeast coast of Newfoundland is a year-round, deep-water port where ferry service connects with Labrador. Links to nearby Fogo and Change islands, and a thriving eco-tourism industry focused on whale and iceberg watching have also helped turn the community into a tourist destination.
But Lewisporte's most important link to the rest of Newfoundland, and the use that takes the biggest toll on the Trans-Canada Highway, is the off-loading port for aviation fuel used at Gander International Airport, located 52 km away.
The tank farm at Lewisporte keeps tanker trucks moving on the Trans-Canada year round. Last repaired 17 years ago, the highway near Lewisporte had deteriorated to the point where significant rutting and pavement deformities made driving conditions dangerous.
Now, thanks to federal funding under the Major Infrastructure Component of the Building Canada Fund, the Newfoundland and Labrador Department of Transportation and Works undertook rehabilitation of 22 km of the Trans-Canada Highway near Lewisporte.
Ditches were also upgraded, guard rails repaired and drainage structures replaced.
Lewisporte Mayor William Hooper sees the highway rehabilitation as a way to enhance his town's ability to pursue new economic development and tourism dollars while keeping residents of his community safer when they travel the Trans-Canada.
Federal contribution: $3,500,000
Two bridges for the price of one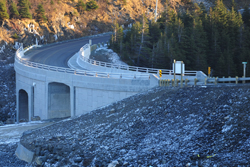 Project location: Logy Bay-Middle Cove-Outer Cove
Using an economical technique involving mechanically stabilized earth retaining walls, residents using the Outer Cove Bridge now have two new bridges to replace the previous structure, which had severely deteriorated and become a safety issue.
Thanks to a contribution from the federal Infrastructure Stimulus Fund, the province replaced the bridge spanning Outer Cove Brook, and then constructed a second bridge that extends off the road and runs underneath the top bridge. The bottom bridge improved access to the Outer Cove beach, a popular destination for local residents and tourists.
At the time of the announcement, Logy Cove-Middle Cove-Outer Cove Mayor John Kennedy commented that the new bridge would result in a more direct coastal route between our area and St. John's for tourists, local drivers, emergency and commercial vehicles.
Education budgets will also benefit through reduced fuel consumption and wear and tear on their fleet as school buses will be able to shave 30 minutes off their trips back and forth to the capital.
Federal contribution: $1,050,000
Paving the way to work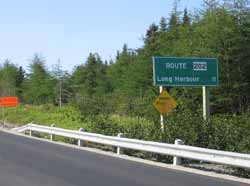 Project location: Long Harbour
Route 202 connects the western side of the Avalon Peninsula with the Trans-Canada. It also connects the community of Long Harbour with the new Vale Inco commercial nickel facility that will process ore from the Voisey's Bay mine in Labrador. As such, Route 202 will be the road to work for about 450 people when the new facility is opened.
To meet safety standards and facilitate the movement of goods and services along a 9.5 kilometre stretch of Route 202, the province successfully applied for up to $1,050,000 from the federal Infrastructure Stimulus Fund, which it matched.
Upgrades along the highway included drainage and structural improvements as well as culvert and guardrail installations. A left turn lane was also added at one busy intersection. A fresh layer of asphalt completed the work.
Federal contribution: $1,050,000
Federal Gas Tax Fund supports modern waste management solutions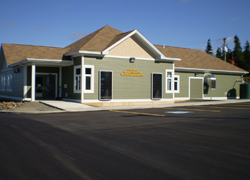 Project location: Norris Arm
The federal Gas Tax Fund is helping reduce the amount of landfills in Newfoundland and Labrador by supporting modern and environmentally sound waste management facilities.
In Norris Arm, for example, Gas Tax funding was used to build the Central Newfoundland Waste Management Facility. This facility includes an administration building and maintenance garage; public drop-off, construction and demolition disposal areas; as well as weigh scales. The facility also has sufficient space for future recycling and composting areas.
The landfill is the first in the province to be lined with composite layers of impermeable material to keep pollutants from leaking into the soil and water. It also offers a convenient automated processing system to simplify drop-offs and traffic circulation through the site.
Because of its central location, more than a hundred communities are now using the facility and 42 older community dump sites have been closed.
By supporting projects geared towards modernizing waste management, Canada's Gas Tax Fund is contributing to more efficient municipal operations and positive environmental results, both of which are important to building prosperous and sustainable communities.
Improving the flow of water and wastewater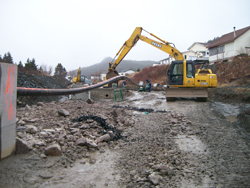 Project location: Norman's Cove-Long Cove
Known for shipbuilding, fishing and Cambrian rock formations, tourists are attracted to Norman's Cove-Long Cove for its nature trails, majestic ocean views and iceberg sightings.
To support tourism and town growth, officials in Norman's Cove-Long Cove are ensuring that key amenities, like water and sewer services, function safely and effectively.
Thanks in part to funds available through the Communities Component of the Building Canada Fund, construction crews recently removed 1.5 kilometres of old water main and sewer line on Main Street East, heading east from Riverside Drive.
A high capacity water main has replaced two-inch plastic water pipes that could not meet the area's demand for drinking water. The new sewer lines now easily accommodate water run-off that previously had often flowed into local ditches after major storms.
Forty six homes and local businesses in Norman's Cove-Long Cove are now enjoying improved municipal water and wastewater services.
Federal contribution: $366,372
Federal Gas Tax Fund brings more reliable clean water supply to smaller communities
Project location: Pacquet
Clean, accessible drinking water is crucial to the well-being of any community and methods of providing it vary according to a number of factors.
For very small communities with water issues, Potable Water Dispensing Units provide an efficient, cost-effective option for accessing purified water. These are small-scale water treatment systems that pump and treat water from a local source, store it and allow residents to manually collect it from a centrally located shelter.
Thanks to the federal Gas Tax Fund, the Town of Pacquet will soon be home to one of these units. Previously subject to chronic boil-water advisories, the community will be relieved to have access to a consistently reliable drinking water source that costs little to operate.
A number of other small municipalities across the province are using their Gas Tax Fund allocations to invest in these units and provide residents with the most economical and practical solution to improving access to safe drinking water.
Water and sewer services - Deborah Lynn Heights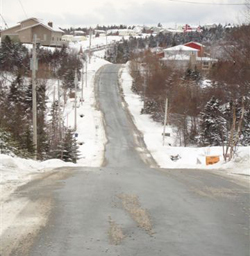 Project location: Paradise
Thanks to more than $2 million in funding from the Communities Component of the Building Canada Fund, and equal shares from the Province of Newfoundland and Labrador and the municipality, the previously unserviced area of Deborah Lynn Heights in the Town of Paradise is now connected with existing water and sewer systems.
As well as increasing the potential for housing development, the addition of these services has provided residents who previously relied on private septic systems with easier access to safe drinking water, proper sewage disposal and improved fire hydrant service through the looping of the water supply.
"The Town of Paradise is committed to providing all residents with a clean, safe supply of drinking water, while ensuring proper sewage disposal," said Ron Fleming, Director of Public Works and Engineering for the Town of Paradise. "The completion of this project not only provides residents in the area with optimal water and sewer services and increased fire protection, but with peace of mind in not having to worry about water quality or onsite sewage disposal systems."
Federal contribution: $717,217
Road repairs help drivers navigate safely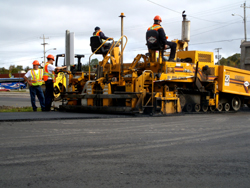 Project location: Pasadena
Road repairs on Route 202 of the Trans-Canada Highway (between Pasadena and St. Judes near Deer Lake) have corrected the rutting that had developed on this frequently travelled section of road.
Up to $1 million from the federal Infrastructure Stimulus Fund was matched provincially and applied toward removing the rutted surface, then applying new asphalt.
Jim Merrigan, Clerk and Manager with the Town of Pasadena, commented that "on a good day, driving any car on rutted pavement is hazardous. When it rained, water collected in the ruts on this road and made driving conditions very dangerous; hydroplaning was a serious concern. Rut repairs have improved the overall driving safety and comfort of residents, travelers and those transporting commercial goods."
Eliminating the ruts and addressing sub-standard driving surfaces and shoulders has created a safer road for commuters, businesses, local residents and vacationers using this stretch of highway. This project has also improved travel times and reduced the cost of maintaining the highway.
Federal contribution: $1,000,000
More space, reduced energy consumption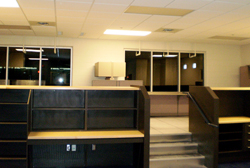 Project location: St. John's
The Public Works and Parks department for the City of St. John's set a basic goal for itself: deliver mandated services "as economically, efficiently and effectively as possible." The condition of the main municipal depot, however, meant the department sometimes struggled to meet its obligations in a cost-effective, efficient manner.
With a commitment of $2.5 million from the federal Infrastructure Stimulus Fund, the City of St. John's renovated the main Public Works and Parks depot. Originally built in the 1960s, the depot was too small and had energy-efficiency issues. The renovations included upgrades to the building's exterior envelope, insulation, air-handling capacity and energy management systems.
The retrofit supports a more efficient operating space for departmental staff and promotes improved delivery of municipal services to the citizens of St. John's. This includes faster emergency response times. With better energy conservation, the project helps reduce greenhouse gas emissions.
Federal contribution: $2,500,000
Integrated recycling campus modernizes waste disposal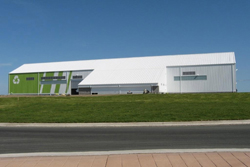 Project location: St. John's
With financial support from the federal Gas Tax Fund, St. John's has re-developed an old landfill site into a modern, multi-purpose waste management centre.
The Robin Hood Bay Waste Management Facility provides the region with an environmentally responsible way to recycle and divert waste. It includes a residential drop-off facility, a household hazardous waste depot, a recycling centre, a scrap metal yard, and a disposal site for special waste. Before this development, residents could only dispose of their waste through landfills.
The City of St. John's also introduced a curb-side recycling program with the opening of the new facilities. Recycling is now collected along with garbage during the City's weekly pick-up. Residents embraced the program very quickly and had already diverted over 4,000 tonnes of recyclable material from the landfill in the first ten months of the program alone.
This project represented a big step in advancing the province's Waste Management Strategy and its goal to cut the amount of waste going into landfills in half by 2015. In the future, St. John's plans to add a composting facility to the site to provide residents with even more options for "greening their garbage."
Reduced risk of flooding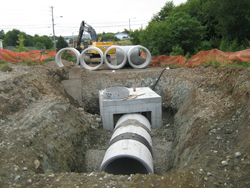 Project location: St. John's
Residents in St. John's are enjoying a lower flood risk thanks to the replacement of the Northeast Land Assembly trunk storm sewer between Torbay Road and Quebec Street.
The pipes in this section of the city were old, narrow and not equipped to drain away large volumes of storm water. Even worse, portions of the line were so badly corroded that the trunk storm sewer was close to collapsing. This would have resulted in a major system blockage and flooding on residential streets.
Money from the Infrastructure Stimulus Fund helped the city move ahead with its plan to replace the existing piping during the summer months. With school out, neighbouring playgrounds and walking trails could be closed without significantly inconveniencing residents.
The new sewer line is much more efficient and has greatly reduced community concern about the possibility of flooding. The improvements will also keep maintenance costs down for years to come.
Federal contribution: $923,334
Safer, reliable sewers
Ongoing maintenance issues resolved
Project location: St. John's
In one residential area of St. John's, property owners had long-standing problems with sewer backups, basement flooding and noxious odours. Because of public safety concerns, city crews visited the neighbourhood every week to flush municipal sewer lines and perform maintenance.
With $200,000 from the federal Infrastructure Stimulus Fund, municipal sewer lines have been completely replaced in the neighbourhood located in the south end of the city. Residents now have a safe sewer system that will improve public health and safety and the quality of life in their area, and the City of St. John's can redirect valuable maintenance resources to other ongoing municipal projects.
Federal contribution: $200,000
St. John's Bay Bulls Big Pond water treatment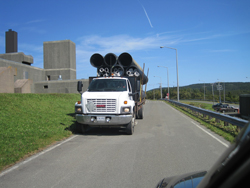 Project location: St. John's
The project at St. John's Bay Bulls Big Pond Water Treatment Plant involves the construction of a new building to house Dissolved Air Flotation (DAF) process equipment. This will allow pre-treatment of raw water prior to treatment at the existing plant to improve plant efficiency and capacity.
The initial stage of the project will require construction of two lagoons to handle the waste stream from the Dissolved Air Flotation process. These lagoons have to be in place before the new DAF process can discharge any waste stream from the plant and to allow set-up and commissioning of the equipment and process.
The St. John's Bay Bulls Big Pond is a conventional water treatment plant, which was commissioned in 1977 to primarily deal with color, iron and manganese in the source water. It has a design flow of 110,000 cubic meters per day and serves a population base of 78,500.
The project was approved through the Infrastructure Stimulus Fund. The total cost of this project is almost $35 million, with the federal, provincial and municipal governments all contributing.
"This extremely important project has been one for which we have been actively pursuing funds during the past several years in order to undertake its construction," said Dennis O'Keefe, Mayor of the City of St. John's. "Funding from the Infrastructure Stimulus Fund has now made this a reality. The pre-treatment process being constructed will enable the removal of constituents in the raw water that have restricted the treatment process in the past."
He continued to say, "This facility will have a major impact on the quality of drinking water that we will be providing to the citizens of St. John's and the surrounding communities. Once completed, it will ensure our ongoing compliance with the Canadian Drinking Water Guidelines at the highest level."
Federal contribution: $11,666,667
Upgraded scenic highway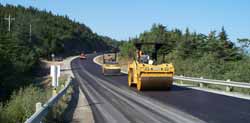 Project location: St. Lawrence
Route 220 connects villages along the south coast of the tip of Newfoundland's Burin Peninsula. It is also promoted as a scenic drive of interest to tourists wanting to explore the region's heritage.
With the help of $1 million from the federal Infrastructure Stimulus Fund, the Province of Newfoundland and Labrador was able to undertake rehabilitation work on a winding stretch of Route 220, from Lewin's Cove on Burin Bay to the village of St. Lawrence, with an investment of $1 million from the federal Infrastructure Stimulus Fund.
Road crews replaced existing culverts, cleaned out ditches, installed new guard rails and highway signs, and pulverized the existing asphalt before laying down a new layer of pavement. Road shoulders were also renewed.
The improved road means faster travel times and less vehicle maintenance for area residents. It also means a safer, more enjoyable experience for tourists wanting to explore the Burin Peninsula.
Federal contribution: $1,000,000
Promoting tourism
Road to World Heritage Site resurfaced
Project location: St. Lunaire-Griquet
L'Anse aux Meadows, the earliest known European settlement in the new world and a UNESCO World Heritage Site, receives a significant number of visitors each summer. Located on the northern tip of the Great Northern Peninsula of Newfoundland, the final approach to L'Anse aux Meadows takes visitors along Route 436 as it winds for 30 kilometres into the Heritage Site.
To improve access to this national treasure, $1.25 million from the federal Infrastructure Stimulus Fund helped resurface Route 436. Work included resurfacing the road with fresh asphalt, eliminating sub-standard driving surfaces and widening the shoulders. A culvert was also replaced.
Visitors now have a safer and more pleasant experience on approaching L'Anse aux Meadows. Traffic flow has been improved and maintenance costs reduced.
The contract for the work went to a company located on the Peninsula, thus providing much-needed jobs. The improved access to L'Anse aux Meadows and nearby coastal villages should also help promote tourism in the area.
Federal contribution: $1,250,000
Improved water management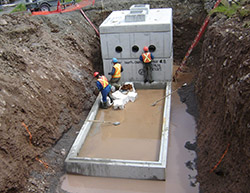 Project location: Sunnyside
Sunnyside's proximity to abundant fishing grounds, glacial deposits, natural gas refineries and the offshore industry make it an attractive destination for residents and businesses alike.
Until recently, parts of the community faced drinking water and sewage management challenges. The municipal system did not serve residents on Main Street and Path End. Their shallow artesian wells dried out and were often infiltrated by salt water, iron and other minerals. A thick, dense clay deposit located directly under a thin layer of topsoil created additional complications through poor absorption from the residential septic beds.
With support from the Communities Component of the federal Building Canada Fund, Sunnyside installed new water and sewage infrastructure. Forty-four more local homes are now connected to the existing town system, connecting them to a safe and reliable potable water supply, and municipal sewage treatment services.
With these improvements, the town is better positioned to attract new growth and economic development.
Federal contribution: $416,984
Trans-Canada to Terra Nova National Park enhanced – journey and destination now both a pleasure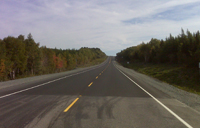 Project location: Terra Nova National Park
The natural beauty, dramatic indented coastline and rugged wooded landscape are the most distinctive features of Newfoundland's first national park, Terra Nova. Established in 1957, Canada's most easterly national park is situated on Bonavista Bay. Once inhabited by Archaic and Paleo-Eskimo peoples, herds of whales cavort within sight of the shoreline, and many species of birds circle the islands encompassed within the 396-square-kilometre park.
The Trans-Canada Highway is one of the main roads leading into this treasure trove of natural beauty. However, with sections of the road in serious disrepair, the province made upgrades a priority and took advantage of $1.2 million in funding through the Major Infrastructure Component of the federal Building Canada Fund.
Work was completed in good time to fix rutting problems, renew the asphalt, and replace culverts. Lanes and the roadbed were also widened to make turning easier at an intersection next to the park's boundary.
Darryl Bruce, Senior Engineer with the Department of Transportation and Works, noted that this project is benefitting everyone who uses this road, adding that "the road is now much safer, especially in rain, and is a pleasure to drive on at any time and under any weather conditions."
Federal contribution: $1,200,000
Rehabilitation of Argentia Access Road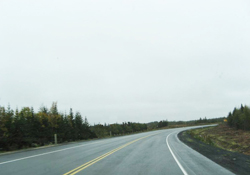 Project location: Whitbourne
The Avalon Peninsula is rich in history. It was prized for its fishing grounds, saw French and British forces fight over it, and became a naval base during World War II. Today, tourists flock to the area for its beautiful views and national historic sites.
Argentia Access Road, also known as Route 100, is a main connector route used by tourists, commuters and commercial traffic travelling between the Trans-Canada Highway and the Marine Atlantic ferry terminal in Argentia. It is also an integral component of the transportation network surrounding the Vale Inco site.
With no upgrades in almost 20 years, the road had deteriorated to the point of being unsafe. The asphalt was coming up in some areas and deep potholes made driving treacherous.
Thanks to support from the Major Infrastructure Component of the Building Canada Fund, approximately 24 kilometres of the road are now in great shape.
Renewed drainage structures, improved roadside ditches, resurfaced sections of asphalt, and repaired guide rails are ready for use by local citizens, businesses and tourists alike.
Federal contribution: $2,680,000
Date modified: