Project Profiles in Alberta
Learn more about some of the projects in Alberta by selecting a community name:
New facility for renowned arts and leadership campus
Project location: Banff
The Banff Centre provides an interactive environment to support the creation and showcasing of works by exceptional artists from around the world. The Centre also provides leadership programs and hosts conferences for international leaders of every discipline.
Open since July 2010, the Kinnear Centre for Creativity and Innovation is the latest facility to join the Banff Centre campus. With more than 6,400 square metres, it features a learning resource centre, flexible learning spaces, state-of-the-art audiovisual systems and generous informal meeting areas to draw participants together and spark collaboration. It also has rehearsal and performance space, including a new outdoor amphitheatre. Lounge areas on all levels have balconies that overlook the Bow Valley.
This project was made possible by a financial contribution from the Major Infrastructure Component of the federal government's Building Canada Fund.
Phil Poning, Past Chair of the Banff Centre Board of Governors, described the Kinnear Centre as "an unmatched environment for creativity, innovation, and leadership that will inspire the next generation of artists and thinkers, and foster leaders for a more prosperous Canada."
Federal contribution: $15,000,000
Federal Gas Tax Fund helps improve drinking water quality and reliability
Project location: Bittern Lake
The Village of Bittern Lake is a small community located between Camrose and Wetaskiwin in rural central Alberta. With a view to protecting the health of current residents and attracting new families and commercial activity, the community recognized the importance of sustaining a safe and dependable drinking water supply.
With financial support from the federal Gas Tax Fund, upgrades were made to the Village's pump house. Work included replacing corroded steel pipes with modern, rust-resistant pipes and upgrading existing pumps to more energy-efficient models. Community safety also increased through the addition of a new fire pump. An online chlorine analyzer and new water-quality monitoring and alarm systems, to provide automatic alerts if water quality slips below standards, will help assure water quality. Before automating the process, the community relied on operators to physically check the water for contamination.
"This project has benefited the community by improving our ability to monitor drinking water safety … simply by accessing the Internet," commented Bittern Lake's Chief Administrative Officer, Theresa Fuller. "The new pumps will improve energy efficiency and the new generator will keep the system functioning in the event of power outages."
The Bittern Lake's pump-house upgrades extended the life of the water distribution system, increased operational efficiencies, and helped ensure that residents can enjoy clean, reliable drinking water for decades to come.
Community centre upgrades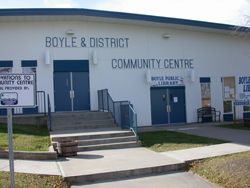 Project location: Boyle
In Boyle, the District Community Centre is an older building that includes a hall seating about 500 people, as well as the local playschool and public library. However, the building used to have access, safety and energy-efficiency issues.
To resolve local concerns about the structure, the Village of Boyle was granted $238,046 from the Communities Component of the federal Building Canada Fund to help repair and upgrade the roof, flooring, doors, sidewalk and exterior siding.
Wheelchair-accessible entrances and washrooms were installed along with a new energy-efficient electrical system and water-conserving devices in the washrooms. Lighting is now more energy efficient as is the hall's hot-water supply. Ventilation has been improved and insulation added.
Like many small towns, life in Boyle frequently revolves around the community centre. Mayor Bob Clark is relieved to see the "heart" of his community extend its life expectancy by another 20 or 30 years. The renovations will "help our Village be sustainable in the long term. We could not have done this project without the help of the federal government."
Federal contribution: $238,046
Stampede Park to become year-round exposition and education centre
Project location: Calgary
The vision to create a world-class, year-round gathering place for agricultural, commercial, educational and entertainment events continues to take shape at the Calgary Stampede Park.
Thanks to financial support from the Major Infrastructure Component of the Building Canada Fund, as well as the provincial government and the Calgary Stampede organization, the project is well under way.
The Agrium Western Event Centre will be the new home for agricultural events, regional and international competitions, rodeos, concerts, training seminars, private functions, conventions, trade shows, and more. It will include a 2,500-seat arena, a 6,000-square-metre multipurpose hall, guest amenities, as well as high-end hosting and hospitality venues.
The Agrium Centre will also be home to a global-minded education initiative called Journey 2050, an interactive program designed to challenge middle-school children to find sustainable ways to feed the world's population by 2050. This initiative hopes to make the Park an educational focal point for agriculture – one of the province's most treasured industries.
The project also involved renovating the Stampede Park's main agriculture building, reconfiguring the racetrack and building a traffic tunnel to separate pedestrians, vehicles and livestock, and to facilitate access to the new Agrium Western Event Centre.
Once complete, this project will help build a lasting connection between Alberta's urban and rural communities, boost both regional and international attendance, and build on the Park's current economic spin-off benefits for local businesses of over $350 million.
Federal contribution: $25,000,000
Building national pride
Recognizing excellence in sports
Project location: Calgary
Thanks to financial support from the federal Infrastructure Stimulus Fund, construction is now complete on Canada's new Sports Hall of Fame and Museum in Calgary.
The 3,716-square-metre facility in Canada Olympic Park, which already hosts more than a million visitors a year, is expected to become a major, world-class tourist attraction in its own right.
Exhibits honour Canadian athletes and highlight outstanding Canadian sports achievements. Visitors can interact with their heroes through advanced technologies. The facility also includes an education and resource centre aimed at promoting sports activities and the Canadian sports legacy.
In addition to the hundreds of jobs generated through the building phase, the Hall will provide an ongoing contribution to Calgary's economy.
Federal contribution: $15,000,000
Deerfoot Trail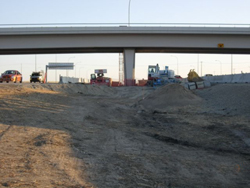 Project location: Calgary
The interchange structure at Highway 2 and 196 Avenue over Deerfoot Trail in Calgary was twinned thanks to funding from the Infrastructure Stimulus Fund and the Province of Alberta.
The project widened the existing overpass structure to four lanes. The interchange serves the neighbouring communities of Seton and Cranston in Calgary by providing access to Deerfoot Trail.
The Trail is the major north/south transportation route through the City of Calgary and part of Alberta's north/south trade corridor. The project has also provided an important access route to the newly constructed South Calgary Hospital.
Federal contribution: $2,277,000
Ring road project to improve traffic flow and stimulate economy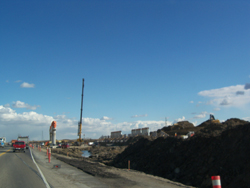 Project location: Calgary
Through the Major Infrastructure Component of the Building Canada Fund, the Government of Canada is investing in a massive, multi-year project to build a ring road around Alberta's largest city.
Workers have begun construction on a 25-kilometre-long section of six-lane roadway that will link 17th Avenue SE to Macleod Trail. This stretch of Stoney Trail is due to be completed by the fall of 2013 and will represent almost one quarter of the full ring road. It will have no traffic lights, and consist of nine interchanges and 29 bridge structures, including three overpasses.
The Stoney Trail project is being managed through a public-private partnership that provides incentives for finishing work on time. This will help protect taxpayers against delays and cost overruns.
Improved traffic efficiencies, streamlined shipping routes and lower collision rates are among the many benefits this project will bring to the southeast region of Calgary.
Federal contribution: $100,000,000
Supporting cultural growth and excellence
Project location: Calgary
Strong communities are not just built on sound underlying infrastructure that provides clean water and reliable municipal services. Recreational, educational and creative institutions are also essential to creating sustainable communities people can take pride in.
To this end, the federal government is providing financial support to a new arts facility at Mount Royal University. With a rich academic and musical tradition dating back over a century, the Mount Royal Conservatory has long waiting lists for its programs that reflect its prestigious reputation. Despite growing demand, however, space limitations have prevented the Conservatory from increasing enrolment for nearly 15 years.
The new Mount Royal Conservatory building will include a dedicated wing for early childhood music programs, more teaching and ensemble studios as well as a new 750-seat multipurpose concert hall. Once complete, the Bella Concert Hall will provide a premiere concert and performance venue for the university.
This investment from the Major Infrastructure Component of the Building Canada Fund will allow the university to enhance and build on its tradition of musical excellence. The project will also help strengthen the local economy and preserve an enduring community cultural legacy for generations to come.
Federal contribution: $20,000,000
Supporting fitness and future Olympians
Project location: Calgary
Located in the Calgary Olympic Park, the new Winsport Athletic and Ice Complex is a world-class sports and training facility designed to serve a wide range of users from recreational enthusiasts to elite athletes.
At more than 46,452 square metres, the complex includes three North American-sized ice rinks for minor-league and recreational hockey, ringette, sledge (sled) hockey, figure skating and public skating. A fourth arena can accommodate 3,000 spectators for national and international-level competitions and tournaments.
Winsport includes a high-performance training centre equipped to further enhance the fitness levels of top-level athletes or to support injury recovery strategies. The complex also boasts a public fitness centre, a new office tower that will house up to 20 national and provincial sporting organizations, together with a public events plaza.
The much-anticipated complex addresses the chronic shortage of ice pads available for public use across the City. The Complex brings top performers from different sports together under one roof. Casual fitness seekers mix with current and future Olympians to create a uniquely inspiring environment for developing Canada's leading sports talent.
Financial support from the Major Infrastructure Component of the federal government's Building Canada Fund made this project possible.
Federal contribution: $40,000,000
TELUS Spark stimulating interest in science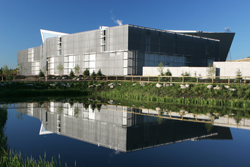 Project location: Calgary
TELUS Spark is Calgary's new science centre. The facility had outgrown its previous location of 44 years, where it was known as the Calgary Science Centre and Creative Kids Museum.
Its construction was made possible through a combination of personal, private sector and public sector funding contributions. The federal government's contribution was delivered through the Major Infrastructure Component of the Building Canada Plan.
The Centre aims to inspire youth to participate in science as well as think about careers in science. The new science centre provides access to a wide range of innovative and inspirational exhibits. It is intended to stimulate curiosity and the desire to learn about and explore science through hands-on interactions. Visitors of all ages can expect to be challenged as they match wits and ingenuity while interacting with each exhibit.
"Our commitment is to reach beyond our boundaries to fuel innovation, inspire creativity, and to provide unique and accessible ways to engage in the world of science, technology and the arts," says Jennifer Martin, President & Chief Executive Officer of TELUS Spark.
Officially opened to the public in October 2011, the facility is providing inspiration and learning opportunities to youth and adults alike.
Blog on the Economic Action Plan of Canada website: Inspiring People of All Ages to Explore and Discover Science
Federal contribution: $40,000,000
Improving access to national parks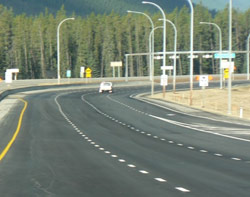 Project location: Canmore
On the east side of the Rocky Mountains, the highway network is subject to extreme weather and difficult to maintain. For much of the year, these roads are frozen and require regular sanding and plowing, which makes for a lot of wear and tear.
Also in this area lies Banff National Park, a world-renowned tourist centre that attracts millions every year. Many of Banff's visitors access this important national treasure via the one and a half hour drive from Calgary along the Trans-Canada Highway - also known as Highway 1. The stretch from the park's boundary eastward toward Canmore, Alberta, was in need of significant repair work.
Through a fifty-fifty cost-sharing agreement with the province of Alberta, the federal government contributed to the pavement rehabilitation along nearly 11 kilometres of this important highway through its Infrastructure Stimulus Fund.
The road now has a new pavement, guardrails and better drainage. These improvements will reduce maintenance costs, improve safety and extend the life of the road by another 15 years.
Federal contribution: $1,502,808
Repairing busy Alberta highways near Cochrane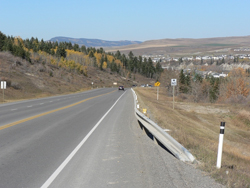 Project location: Cochrane
The roads and highways east of the Canadian Rockies near the town of Cochrane need frequent maintenance. Area highways are subject to heaving due to frequent freezing and thawing, and face wear and tear as a result of snow plowing and unprecedented use due to a surging energy sector.
These roadways frequently sustain visible damage in the form of cracks, potholes and general deterioration.
Alberta Transportation paired up with the Government of Canada to fund two projects to rehabilitate of some of the worst stretches road between Calgary and Banff. Now complete, the new road surfaces are designed to better withstand the harsh Alberta winters. The work will also prolong the life spans of these busy highways.
A fresh coat of asphalt means that well known routes such as the locally known 'Cowboy Trail' and parts of Highway 1A will be safer with less road debris. These routes now require less maintenance, which means reduced costs and traffic delays.
In rapidly-growing rural communities such as Cochrane, road upgrades are welcome signs of development and infrastructure renewal.
Federal contribution: $2,170,730
Devon sees 25 roads repaired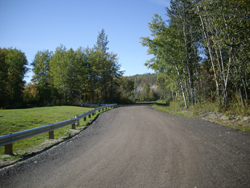 Project location: Devon
In Devon, 10 kilometres southwest of Edmonton, financial assistance from the federal Infrastructure Stimulus Fund has gone much further than expected.
The town originally applied for federal infrastructure funding to upgrade ten roads and sidewalks in the area. However, careful planning and lower than anticipated construction costs allowed the community to propose 15 additional road projects that had been slated for repair in future years. Federal and provincial approvals meant that those 15 projects could move forward with two other governments each contributing one third of the cost.
"Devon was able to leverage the competitive prices to add more roads and sidewalks from its capital plan and fully utilize the [funding]," explained Rod Fraser, Devon's Director of Public Works and Land Services. "The intention of the [funding] was to stimulate the economy and there is no doubt that this was accomplished."
Rehabilitating more of the roadways has saved a lot of money. Over the next ten years, Mr. Fraser expects the town will be able to redirect almost $5 million to other capital projects that had previously been targeted for road maintenance.
Federal contribution: $1,260,872
Expanded convention centre for Edmonton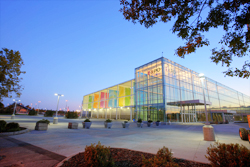 Project location: Edmonton
As a town with close ties to the energy industry, Edmonton has experienced rapid economic growth in recent years. It has also outgrown much of its 1970s-era business infrastructure.
To help address this issue, the federal government provided a financial contribution through the Major Infrastructure Component of the Building Canada Fund to expand the City's main convention centre.
The 152,400-square-metre space, now known as the Edmonton Exposition and Conference Centre, includes eight convention halls, six ballrooms, thirteen meeting rooms, a lounge and several connecting galleries. It features state-of-the-art technology and business services to help attract conventions and other events from around the world. With the capacity to host up to 25,000 visitors at a time, it is now the largest Canadian exhibition venue outside of Toronto.
This project has allowed Edmonton to position itself as the foremost venue for Canada's exhibition, conference, entertainment and agriculture industries. The new convention centre will also help ensure the City achieves its potential as a key business, trade and tourism destination.
Federal contribution: $25,000,000
New ring road reinforcing Edmonton's economy
Project location: Edmonton
The Province of Alberta and the City of Edmonton first considered developing a ring road around the city in the mid-1970s. Existing routes were inefficient and long delays were the norm, especially during rush hour.
Thanks to support from the Major Infrastructure Component of the federal government's Building Canada Fund, the City has already opened parts of the new Ring Road and is on schedule to complete the rest of this massive undertaking by 2016. Through partnerships and incentive arrangements with private-sector companies, the City has also managed to speed up construction timelines and protect taxpayers from inflated costs.
Once finished, the full route will include 47 bridges, eight interchanges and 27 kilometres of six- and eight-lane roadway. With workers converting existing intersections along the route into interchanges, drivers will be able to get around the city much more quickly and efficiently.
As well as improving driver safety and meeting the transportation needs of the entire Edmonton region, this vital link will help reinforce the provincial capital's position as a service hub for northern development.
Federal contribution: $85,144,219
Supporting Edmonton's public transit strategy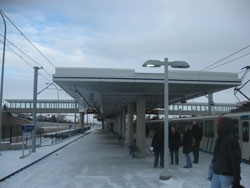 Project location: Edmonton
Thanks to financial contributions from the federal Infrastructure Stimulus Fund, Edmonton transit users are benefiting from a number of completed improvement projects designed to increase ridership and make the Light Rapid Transit (LRT) system safer.
Two new Park and Ride lots, one at Eaux Claires and one at Lewis Estates, make it easier for commuters to access the LRT. With a combined total of 900 new parking spaces available, more people can leave their cars behind.
To help move larger-than-expected numbers of passengers more quickly and comfortably to their destinations, the LRT trains running south of the city are now longer. The platforms at five stations serving the residents on the south side of the Saskatchewan River were also extended to accommodate the longer trains.
Four stations on the north side of town got new track signal systems. The previous systems dated back to 1978 and didn't provide grade crossing protection or the option for automatic train control.
By investing in public transit infrastructure improvements, the Government of Canada is helping cities across the country reduce urban congestion, cut greenhouse gas emissions and accommodate future growth.
Federal contribution: $19,933,333
Edson's jewel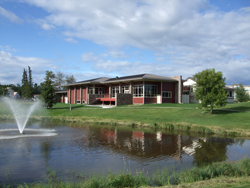 Project location: Edson
Halfway between Edmonton and Jasper along Highway 16 lies Edson, a rural community of nearly 10,000 people.
The Galloway Station museum is an important part of Edson's cultural fabric, documenting the railway, coal mining and lumber industries that established the town and its economy. However, the growing museum collection could no longer be accommodated in its former display facilities.
The space challenge has now been resolved thanks to a contribution from the federal Infrastructure Stimulus Fund. The project expanded the museum's exhibit space, and added a multi-purpose room and reception hall for corporate and educational events.
The building upgrades also better safeguard the artifacts on display. Better lighting, temperature and humidity controls help conserve the wide variety of delicate materials. Shipping and receiving facilities were updated to improve security and handling.
"The current museum has been in dire need of renovations," said Edson Mayor Greg Pasychny when the project was announced. "The new museum is going to be an absolute jewel along the Trans-Canada Yellowhead highway."
With a new parking area that can accommodate tour buses, the refurbished museum allows the Edson and District Historical Society to showcase the community's heritage to more tourists from far and wide.
Federal contribution: $951,413
Supporting community growth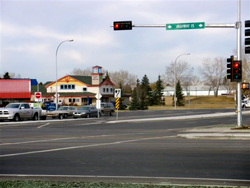 Project location: Fort Saskatchewan
The City of Fort Saskatchewan near Edmonton is rapidly expanding. It is seeing significant local development in the form of shopping centres, residential areas and a planned hospital.
To support these developments, the City is modifying its intersections to accommodate increasing volumes of both vehicular and pedestrian traffic. The work also supports the access needs of emergency vehicles that will be en route to and from the future hospital.
The Highway 15 and 21 junctions, and where Highway 15 crosses 101 Street, carry significant regional, commuter and commercial freight traffic. The intersections handle well over 30,000 vehicles per day and were heavily congested on a regular basis.
Thanks to a federal contribution from the Communities Component of the Building Canada Fund, Fort Saskatchewan has now reconfigured these intersections and added dedicated turning lanes to reduce congestion and improve road safety.
Federal, provincial and municipal investments in this local transportation network project help support community growth and meet the infrastructure needs of Fort Saskatchewan.
Federal contribution: $3,000,000
New sewer main to support town's residential and commercial development
Project location: Grimshaw
The Town of Grimshaw is located just 21 kilometres south of Peace River on Highway 2. It is a thriving community that prides itself on being "Mile Zero on the Mackenzie Highway" and a major service centre for the region's oil and gas, agricultural and forestry sectors.
Until recently, Grimshaw's wastewater disposal system was facing major capacity issues. With a number of new sub-divisions underway and more in the planning stages, extending the town's sewer main had become a top priority.
Lacking the necessary resources, the town applied to the federal Infrastructure Stimulus Fund. The project was approved and work began shortly after that.
The new trunk main has now been put in place along the southern border of the town. This new main will divert any excess effluent to the larger south main to sustain sewage flows, prevent backflows and assure uninterrupted wastewater disposal for residents, commercial and industrial customers.
Wendy Johnson, Grimshaw's Chief Administrative Officer remarked that this development has "ensured uninterrupted sewer service for at least half the town, as well as provided the infrastructure for future development."
Federal contribution: $148,333
Extending the life of a bridge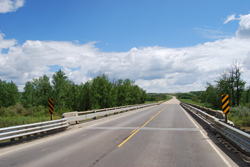 Project location: Hardisty
Located in east-central Alberta, the small town of Hardisty has become a transportation hub for petroleum. Pipelines converge on a nearby tank farm, which takes advantage of Hardisty's location near the crossroads of provincial highways 13 and 881. In addition to oil-related tanker and equipment traffic, the Hardisty area serves a thriving farming community.
A 55-year-old bridge on Highway 13 across the Battle River a couple of kilometres south of Hardisty was starting to show the effects of age and heavy traffic. Ongoing maintenance kept the bridge functioning, but at a large cost to the community. Meeting current safety standards had also become an issue.
Thanks to the federal Infrastructure Stimulus Fund, the Battle River bridge is now up to current standards and will no longer require ongoing heavy maintenance. The bridge deck has been resurfaced with asphalt and metal guardrails replaced the older wooden ones.
Engineers estimate the bridge's life span has been increased by another 20 years. The bridge is safer now for all its travelers, with a smoother surface, which means reduced vehicle maintenance.
Federal contribution: $263,740
Safe, clean, reliable water supply for Hinton
Project location: Hinton
Hinton's motto of being the 'Gateway to the Rockies' is fitting for this community of 10,000 that sits at the entrance to Jasper National Park.
Recent development has created new pressures on the town to start replacing its water purification and distribution systems. Thanks to a $3 million contribution from the Communities Component of the Building Canada Fund, major work has begun on these public assets. Funding will provide upgrades and improvements to a number of critical systems at the water treatment plant.
The federal government is working collaboratively with its provincial and municipal counterparts to make this project possible. Ensuring clean water for rural communities is a priority for the Government of Canada and this project will ensure that the Gateway to the Rockies has a safe supply of clean water for years to come.
Federal contribution: $3,000,000
Innisfail Library
Project location: Innisfail
The Town of Innisfail is home to over 7,800 residents and is located along the major north/south QE II corridor between Calgary and Edmonton. The Innisfail Library is a regional facility that serves approximately 10,000 residents in the Town and the surrounding Red Deer County.
This project involved relocating and expanding the library to address space constraints, accessibility problems and security issues. The existing library, located in the middle of the town's business area, lacked the capacity to accommodate key programs, support technological innovations, or provide easy access for all users.
Thanks to contributions from the federal, provincial and municipal governments, a new larger library has been constructed in a developing area of the town that has improved accessibility and allowed for the development of external green space areas. The expanded facility also made room for new technology, children's programming, guest speakers and added a dedicated space for teen services.
This new, energy-efficient library provides the area with a crucial gathering space and resource centre.
Federal contribution: $2,906,173
Highway renewal in "the Hat"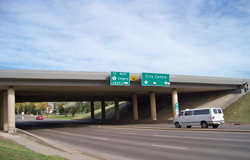 Project location: Medicine Hat
Medicine Hat, known to locals as "the Hat," is Alberta's sixth largest city and was named one of Alberta's top employers in 2008.
With growth and prosperity increasing steadily, the city recognizes the importance of keeping traffic moving safely and smoothly on its highways and roads. This is why they applied to the federal Infrastructure Stimulus Fund to support the rehabilitation of the bridge along the Trans-Canada Highway as it crosses over the Gershaw Drive Interchange.
The project was able to move forward quickly partly due to the accelerated federal environmental assessment process established in 2009, which reduces duplication with provinces and municipalities.
Delaying the project would have led to further road deterioration and shortened the route's service life, increasing future repair costs. Commuters would also have suffered increased maintenance costs as the degrading driving surface took its toll on vehicles.
The deck membrane of the bridge was replaced, the pavement structure rehabilitated, and the driving surface sealed to provide extra protection against wear and tear. Now that the project is complete, residents and travelers will benefit from a smoother ride and improved road safety for years to come.
Federal contribution: $850,000
Federal Gas Tax Fund supports sound waste management
Project location: Minburn
As the region's landfill neared capacity, several small communities in the County of Minburn near Edmonton decided to work together to develop a sustainable long-term plan for solid waste management.
Using contributions from the federal Gas Tax Fund, the villages of Innisfree, Minburn and Mannville constructed a waste transfer site with forty waste disposal bins for household waste; two waste disposal bins for larger items, such as furniture and mattresses; a burn pit; a pesticide container disposal area; and a disposal area for appliances, tires and metals.
With far less waste going to landfills, associated handling and transportation costs have been substantially reduced. Shrinking the amount of landfill also diminishes environmental and health hazards such as ground-water and run-off pollution.
More than 2,000 area residents are profiting from this regional collaboration, which has also helped position their communities for more economic and environmentally sustainable growth.
"We are grateful that federal Gas Tax Fund and Municipal Sustainability Initiative dollars were made available for financial support to construct the new Waste Transfer Station," said County of Minburn Reeve, Eric Anderson. "This commitment by the province and federal government helped address the long-term regional waste management needs for the residents of the County and Villages."
Improving safety, creating jobs
Project location: Okotoks
The Town of Okotoks is one of the fastest growing communities in Alberta. Located 20 kilometres south of Calgary, Okotoks wraps itself around the curving Sheep River.
As new developments spread out, away from the town's core, safety concerns were raised about emergency response times. There were challenges in getting to some of the newer neighbourhoods and industrial parks via the only local bridge across Sheep River. Growing traffic volumes added to potential delays as did the occasional train passing through town past a level crossing.
With $11 million from the federal Infrastructure Stimulus Fund, 32nd Avenue now provides a major new north-south route and river crossing.
The nearby Canadian Pacific Railway bridge was also upgraded, as was a raised rail crossing along the new section of 32nd Avenue. This gives emergency vehicles an alternate route to avoid delays caused by passing trains.
The community on both sides of the river will benefit from these improvements as it continues to develop and grow.
Federal contribution: $11,000,000
Town of Olds celebrates new major highway link thanks to federal Gas Tax Fund
Project location: Olds
The Town of Olds, home to more than 8,200 people, is located along the busy Queen Elizabeth II Highway between Calgary and Edmonton. The town boasts a safe and friendly community that serves as a market and service centre for the 40,000 residents of Mountain View County.
Recent highway infrastructure improvements have ensured the town will continue to benefit from its proximity to major Albertan cities.
With support from the federal Gas Tax Fund, the town built a link between one of its major roads, 51st Avenue, and provincial Highway 27, which is only a few short minutes from the Queen Elizabeth II Highway. This has improved access between the Town of Olds and such major cities as Red Deer, Calgary and Edmonton.
Before the linking road could be built, a former high school had to be removed from its path. The old building, which dated back to the 1950s, had already been replaced with a new school and become the target of vandalism. The old high school was demolished with sustainability in mind – 85 per cent of the material was recycled for other projects, including the base of the new road.
Since completion, the new highway link has stimulated growth for local businesses through easier access to and from the main highway. This has helped establish a steady course towards continuous economic development and prosperity for the entire region.
"This project is a great example of all three levels of government working together in community development," commented Judy Dahl, Mayor of Olds. "The federal government and its Economic Action Plan and Gas Tax Fund, the provincial government through its Municipal Sustainability Initiative and the Town of Olds working with Chinooks Edge School Division and private industry to create a win, win, win for the Town of Olds."
New library a boost to community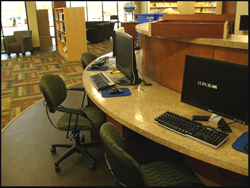 Project location: Penhold
Another piece of a municipal dream has taken shape in Penhold, with the addition of a library to the town's recently built community multiplex. Penhold was granted $1.6 million from the Communities Component of the federal Building Canada Fund for the project.
The new district library adds a cultural and educational complement to the recreational focus of the other facilities in the complex: a regulation-size rink, seating, dressing rooms, walking track and multi-function room. Programs and services for seniors have been improved at the new library and better access provided for residents with disabilities.
An estimated 25,000 users a year are expected to benefit from multiplex facilities.
Federal contribution: $1,600,000
Hwy 11A interchange upgrade (diamond conversion)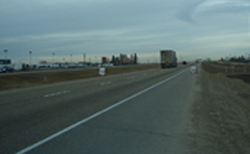 Project location: Red Deer
Traffic safety and circulation in Red Deer County has improved with the completion of a new interchange where the Deerfoot Trail meets Highway 11A. The project, which was cost-shared between the Alberta and federal governments, received $19.6 million from the Infrastructure Stimulus Fund.
The interchange was converted from a traditional cloverleaf layout to a diamond configuration. As traffic volumes grew over the decades, the cloverleaf configuration created safety concerns and delays along Highway 2.
Highway 2 is a key transportation route through Red Deer County and serves as a major north/south trade corridor in Alberta.
Federal contribution: $9,803,000
Resolving water quality issues
Ensuring community safety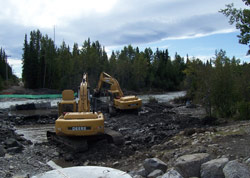 Project location: Rocky View
Thanks to a $1,370,035 contribution from the Communities Component of the Building Canada Fund, the Municipal District of Rocky View now has a new potable water treatment facility and bulk-water distribution system.
Located in the foothills about 44 kilometres west of Calgary, residents in the Bragg Creek area of the Municipal District coped for years with boil-water orders and drinking water that had to be trucked in from Calgary. With no form of water treatment in the community, shallow wells drawing water from the nearby Elbow River were always at risk.
The new potable water treatment plant provides residents with safe local drinking water at a lower cost. The facility incorporates a raw water intake system, pumping station and transmission line. It also includes enhanced filtration and disinfection systems and continuous water quality monitoring devices. Bulk water storage at the new plant will also better support fire emergency response requirements.
Federal contribution: $1,370,035
Protecting Sedgewick's drinking water
Sedgewick sanitary sewer priorities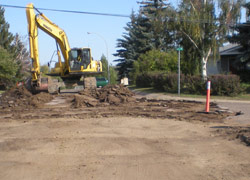 Project location: Sedgewick
Like many communities in Canada, Sedgewick needed help replacing its sanitary sewer system.
This system had been causing the community serious concern, because it was leaking and threatening to contaminate the water table that is a source for the community's drinking water.
The work involved replacing eight blocks of sewer main, including service lines to the curb and the street-level asphalt.
"Like many of the small municipalities across Canada, our infrastructure investment needs are greater than we could ever provide for on our own," said Mayor Helen Whitten. "The Infrastructure Stimulus Fund commitment is helping to ensure that Sedgewick remains a vibrant, growing, safe community."
The project is one of 156 Alberta infrastructure projects receiving support through the Infrastructure Stimulus Fund.
Federal contribution: $956,610
Elevator and Cargill Roads
Project location: Spirit River
The Town of Spirit River is in northwestern Alberta, where its local economy is supported by agriculture and oil and gas industry. With a population of approximately 1,100 residents, it is a major trading area for the large rural population estimated at 10,000.
Elevator and Cargill roads in this community are important access routes that contribute to the Central Peace Region's economic development. The routes carry an average of 1,020 truck loads a year, supporting upwards of $120 million/year in regional revenues.
Both roads were enhanced and repaved in 2009, thanks to federal infrastructure stimulus funds together with provincial and municipal contributions in this $10 million project.
This overlay project has helped sustain jobs in the area, while also increasing road safety for truckers and their equipment. It has also improved access to the industrial and agricultural network, which will in turn support both current and future economic activity and growth.
Federal contribution: $336,761
Improving roads and highways in Spruce Grove
Project location: Spruce Grove
Many towns and cities that lie on the outskirts of major centres struggle to maintain infrastructure that was not built to handle increasing usage levels. This was the case in rapidly growing Spruce Grove, just outside of Edmonton, where the tax base provides limited capacity to fund major infrastructure.
The City's long-term master plan calls for the development and construction of schools, highways and other essential community infrastructure. Significant residential development and recent population increases mean that these projects must move forward sooner than expected. A contribution of $3 million from the Communities Component of the federal Building Canada Fund helped Spruce Grove deliver on its community development plan.
As part of the Arterial Road Network Expansion project, workers upgraded existing roads and extended roads to a proposed school site. This work improved the transportation network for residents while also improving storm water run-off and drainage.
The new infrastructure will serve the community for many years.
Federal contribution: $3,000,000
Accommodating sustainable growth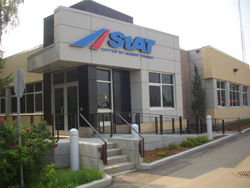 Project location: St. Albert
With financial support from the federal government's Gas Tax Fund, the City of St. Albert has completed major upgrades to one of its main transit facilities.
As part of the renovation, workers expanded the Dez Liggett facility by 1,524 square metres to increase administrative and bus storage space. This allowed the transit authority to purchase fifteen new buses, including six articulated and nine regular buses, bringing the fleet to a total of 55.
To improve energy efficiencies, upgrades were also made to the facility's fuel and waste oil tanks, as well as its mechanical systems. This is helping the City reduce its environmental impact and reach its goal of reducing 20 per cent of its carbon emissions by 2020.
Providing dependable public transportation is key to maintaining sustainable, healthy communities. The newly improved Dez Liggett facility supports better transit services for St. Albert residents. It has also helped the province move a step closer to its goal of providing Albertans with the most advanced infrastructure in North America.
New fire hall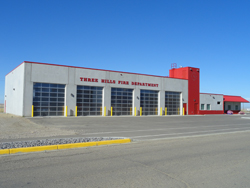 Project location: Three Hills
With significant residential and commercial growth in recent years, the Town of Three Hills, located 130 kilometres north of Calgary, had outgrown its 70-year-old fire hall.
The fire department's 20 volunteer firefighters had been serving the growing community from a cramped, older building that made their job more difficult. They and their equipment—two pumps, a tanker, and a rescue-and-command unit—serve both the town and surrounding area, responding to some 100 calls a year.
To meet the community's growing needs, the department built a new fire hall and training facility. Funding for the hall included $650,000 from the federal Infrastructure Stimulus Fund.
Former Mayor Kevin Edwards said the project "…gives the fire department members a proper home that will better equip them to serve and protect the people of Three Hills and the surrounding rural county."
The new, energy-efficient fire hall houses all the department's equipment under one roof. It also serves as a training centre while enhancing fire protection for residents and visitors.
Federal contribution: $650,000
To learn more about this project, visit the Projects from Start to Finish: Town of Three Hills—New Fire Hall page.
To learn more about how the Government of Canada is supporting Canadian volunteers through infrastructure projects please visit the following link on Canada's Economic Action Plan blog.
New, expanded library to serve four communities
Project location: Turner Valley
With construction on a brand new intermunicipal library now complete, residents of Turner Valley, Black Diamond, Longview and the Municipal District of Foothills are enjoying expanded programming, more community gathering spaces, better accessibility and improved resource technologies.
Operating out of a rented basement, the old library was too small to meet the demands of the area's growing population. Built with help from the federal Infrastructure Stimulus Fund, the new 10,000-square-foot library is fully accessible, and features a number of mixed-use meeting rooms to accommodate both staff and the public's needs. It also features leading edge green technology.
Turner Valley's former Councillor, Garry Pollock, couldn't be more thrilled with the new facility and the funding that made it possible. "The Town of Turner has a vision as a vibrant sustainable community…and the stimulus funding [has allowed] Turner Valley…to make the new Sheep River Intermunicipal Library a reality."
Federal contribution: $983,000
More convenient water quality monitoring
Project location: Wainwright
Routine maintenance for a water distribution system includes periodically flushing the lines to eliminate any contaminants or sediments in the system.
For the Municipal District of Wainwright in east-central Alberta, this involved getting residents to turn on their taps and going into their basements to take water samples for testing. Water was wasted and monitoring water quality was difficult and time consuming.
The Municipal District of Wainwright installed above-ground shut-off valves along main distribution lines. Utility crews can now flush the lines easily and change the flow direction of water in the system as required. They can also get water samples for testing without disturbing residents. The new valves are also self-draining to reduce freeze risks in winter.
It didn't take a lot of money to rectify the situation: $18,256 from the federal Infrastructure Stimulus Fund, matched provincially and municipally.
Federal contribution: $18,256
Improved safety and functionality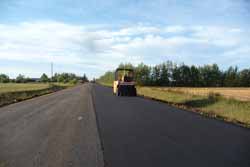 Project location: Westlock County
Upgrading older, narrower highways to improve safety and functionality is an infrastructure priority in Alberta. One such road, a narrow, unpaved portion of Highway 801 in Westlock County north of Edmonton no longer met safety standards.
Alberta Transportation widened and paved 13 kilometres of Highway 801 with an investment of up to $2,067,606 from the federal Infrastructure Stimulus Fund and a matching provincial allotment.
Abid Malik, Senior Manager of Capital Planning for Alberta Transportation, points to the highway standards the road now meets and the much improved public safety of motorists using the highway.
The new waterproof road surface and widened lanes of traffic greatly enhance the ride quality and reduce the risk of accidents. Dust kicked up by passing vehicles has also been eliminated further reducing the accident risk and improving the quality of air along the roadway.
Federal contribution: $2,067,606
Helping communities manage waste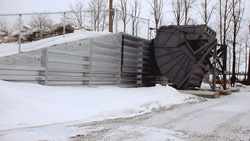 Project location: Wetaskiwin
Solid waste disposal can be a cumbersome and expensive task for many small rural communities. Some must ship the waste long distances to dispose of it in a safe, ecologically responsible manner.
The County of Wetaskiwin, located along the Highway 2 corridor in central Alberta, faced this challenge, along with outdated waste processing infrastructure.
Existing waste management methods wasted up to 40 per cent of the space in transport bins. Waste hauling trucks are expensive to operate, produce high levels of greenhouse gases and add to the wear and tear on roads.
With an investment from the Communities Component of the federal Building Canada Fund, Wetaskiwin now uses modern waste compaction systems at two of its local transfer stations. This means fewer trips to the landfill and translates into lower costs. The savings in fuel and maintenance costs can be re-invested in other important community initiatives.
Investments like this one are helping rural communities manage rising costs and environmental sustainability needs.
Federal contribution: $219,934
Date modified: