ARCHIVED - Building for Prosperity: Public Infrastructure in Canada
- Minister's Message
Archived Content
Information identified as archived is provided for reference, research or recordkeeping purposes. It is not subject to the Government of Canada Web Standards and has not been altered or updated since it was archived. Please contact us to request a format other than those available.
Minister's Message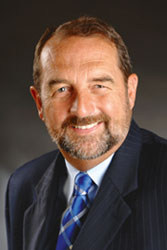 Public infrastructure has always been, and will continue to be, a key driver of Canada's success as a nation. Whether investing in highways, water treatment, public transit or cultural facilities, these investments help our industries reach global markets, protect our environment and support our cities and communities. Knowing how important infrastructure is to each and every Canadian, I am honoured that the Prime Minister asked me to develop a long-term plan for public infrastructure that extends beyond the expiry of the Building Canada Plan.
Canada's network of public infrastructure is complex and vast, made up of highways and roads, water distribution and treatment facilities, energy generation and distribution, and more — that reach into every community. Sustaining and improving this network requires the involvement of all orders of government. Looking beyond Building Canada, the Government of Canada will engage with our partners and stakeholders in a dialogue on the next public infrastructure plan.
This government has maintained an open discourse with its partners and stakeholders on the best way to support our national objectives through infrastructure investments. Together, we have developed programs that have made Canada a better place in which to work and live. Since 2006, Canada as a whole has invested record amounts in public infrastructure. The success of Canada's Economic Action Plan clearly demonstrates what can be accomplished when all orders of government work together for the benefit of the country.
As the Minister of Transport, Infrastructure and Communities, I am very proud of the achievements that have been made possible through partnerships with our provincial, territorial and municipal counterparts. As we complete our stimulus projects and move to the next phase of Canada's Economic Action Plan, it is time to call upon our partners to join the discussion on the best way forward, with the intent of developing a new long-term infrastructure plan for Canada. A prudent approach to public infrastructure will ensure that Canada retains its competitive advantage and resilient economy.
The Honourable Denis Lebel, P.C., M.P.
Minister of Transport, Infrastructure and Communities
and Minister of the Economic Development Agency of Canada for the Regions of Quebec
Date modified: