Construction of Lakeshore's New Multi-Use Recreation Facility Moves Forward
Lakeshore, Ontario, August 15, 2013 – The construction of the new Lakeshore Multi-Use Recreation Facility is moving full speed ahead. The Honourable Diane Finley, Minister of Public Works and Government Services and Member of Parliament for Haldimand-Norfolk; Jeff Watson, Member of Parliament for Essex; and Tom Bain, Mayor of the Town of Lakeshore, gathered today to recognize the progress on the facility's construction. This major recreation complex is on track to help support active and healthy lifestyles of local residents and revitalize the community.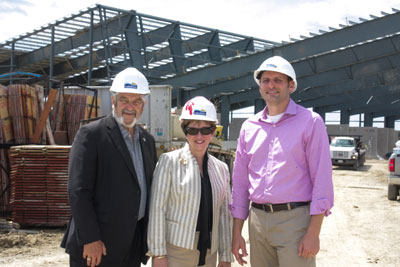 Once complete, the Lakeshore Multi-Use Recreation Facility will consist of three ice pads, a library, several community rooms, meeting space, a gymnasium, an aquatic centre and an indoor walking track. The project will also include the construction of outdoor soccer fields and a five-kilometre, multi-purpose trail for walking, running, cycling and skateboarding. Construction of the facility is expected to be complete by December 2015.
"Infrastructure investments are an important way for the Harper Government to create jobs, economic growth and prosperity in communities all across Canada," said Minister Finley. "Our Government is proud to invest here in southwestern Ontario at the Multi-Use Recreation Facility in Lakeshore, where we can contribute to the community and at the same time help families lead active, healthy lifestyles."
"The Ontario government is pleased to see that the construction of the new Lakeshore Multi-Use Recreation Facility is progressing well," said the Honourable Jeff Leal, Minister of Rural Affairs. "Investing in this community hub is creating jobs, strengthening the local economy, and providing new and exciting opportunities for families and residents to gather, play and stay active for years to come."
"As we follow the construction of our new Multi-Use Recreation Facility and see how the facility is beginning to take shape, our excitement grows. This building is impressive; and it is only partially built. Our facility will offer so much to our residents and encourage families to stay active, no matter what season it is. The Town of Lakeshore thanks both the federal and provincial governments for their assistance in bringing our dream into reality," said Tom Bain, Mayor of the Town of Lakeshore.
The governments of Canada and Ontario will each invest up to $17.3 million towards the facility's total eligible costs from the Major Infrastructure Component of the Building Canada Fund. The federal share is conditional on the project meeting all of the requirements under the Building Canada Fund and the signing of a contribution agreement. The Town of Lakeshore will be responsible for all remaining costs. The total estimated cost of the new multi-use recreational facility is $52.7 million.
Canada's Economic Action Plan 2013 is delivering a New Building Canada Plan to build roads, bridges, subways, commuter rail, and other public infrastructure in cooperation with provinces, territories, and municipalities. Thanks to the Government of Canada's leadership and our strong economic and financial fundamentals, the Canadian economy has recovered from the global recession better than most other industrialized countries. Canada has been a leader among G-7 countries throughout the recovery with more than 965,000 net new jobs created since July 2009. The New Building Canada Plan, combined with other federal infrastructure investments, will support Canada's infrastructure advantage, a key enabler of economic growth and job creation.
This project also supports Building Together, the Government of Ontario's long-term plan to build, repair and renew infrastructure across the province. Ontario has invested approximately $85 billion in infrastructure since 2003, which has created and preserved an average of nearly 100,000 jobs each year, making the province's economy more productive and improving the quality of life for the people of Ontario, now and in the future.
For additional information about federal investments in infrastructure and to stay up to date with Web feeds, visit Infrastructure Canada.
For more information on how Ontario is revitalizing its infrastructure, visit the Ontario Ministry of Infrastructure.
Contacts:
Marie-Josée Paquette (Disponible en français)
Press Secretary
Office of the Minister of Infrastructure, Communities and Intergovernmental Affairs and
Minister of the Economic Development Agency of Canada for the Regions of Quebec
613-943-1838
Bryan Bossin
Press Secretary
Office of the Ontario Minister of Rural Affairs
416-326-3066
Rita Arsenault
Manager of Special Projects
Town of Lakeshore
519-728-2700 Ext 282
rarsenault@lakeshore.ca
Infrastructure Canada
613-960-9251 or toll-free 1-877-250-7154
Date modified: