ARCHIVED - Smarter City Technology Aids Asset Management In Cambridge
Archived Content
Information identified as archived is provided for reference, research or recordkeeping purposes. It is not subject to the Government of Canada Web Standards and has not been altered or updated since it was archived. Please contact us to request a format other than those available.
Cambridge, Ontario, September 8, 2010 – The City of Cambridge today introduced new intelligence systems for infrastructure management that will help municipal workers monitor infrastructure projects across the city in real time, making Cambridge the first municipality in Canada to be recognized by IBM as a smarter city.
The Honourable Gary Goodyear, Minister of State (Science and Technology) and Member of Parliament for Cambridge, Cambridge Mayor Doug Craig, and Chris Mallon, Senior Brand Executive, IBM Canada, came together to showcase the new system.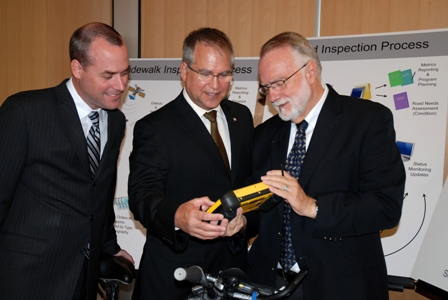 "The Government of Canada is committed to investing in roads, clean water systems, sidewalks and other community infrastructure to strengthen our economy and create jobs," said Minister Goodyear, on behalf of the Honourable Chuck Strahl, Minister of Transport, Infrastructure and Communities. "These projects in Cambridge will help keep residents safe and promote a healthy and efficient environment."
"There's a wealth of information on roads, wastewater, water, and other key infrastructure elements that exist in many forms throughout the city," said Mayor Doug Craig. "The new system brings together a variety of data to enhance management processes of our more than 250,000 infrastructure assets valuing $1.2 billion. This system also includes new mobile applications in the field with real time updating which result in savings for the community."
The technology allows staff to identify safety issues on roads and sidewalks and effectively organize and route this information to crews to ensure timely and complete response. The new system will be mainly used by Transportation and Public Works staff with a view to expanding it to other areas in the future. The Government of Canada contributed over $978,700 towards this project through the federal Gas Tax Fund. The City of Cambridge invested approximately $703,000 towards the project, which included training, work management systems and Global Information Systems (GIS) technology development.
"The City of Cambridge is a leading example of a municipality that is harnessing its creative leadership to put funding and technology to innovative use to improve services for citizens. They recognize that we can't continue to address modern challenges with 20th Century infrastructure," said Chris Mallon, Senior Brand Executive, IBM Canada. "This type of bold vision helps pave the way for sustainable growth and a smarter city that is able to adapt and thrive as it meets the urban challenges of the 21st Century."
The federal Gas Tax Fund provides municipalities with a stable and predictable source of funding for environmentally sustainable municipal infrastructure. Funding is also available for planning projects that contribute to the sustainability of communities and regions.
For additional information:
Office of the Honourable Gary Goodyear
519-624-7440
Mike Hausser, P.Eng
Director of Asset Management and Support Services
City of Cambridge
519-740-4682 x4302
hausserm@cambridge.ca
Carrie Bendzsa
Manager of External Communications
IBM Canada
613-796-3880
carrie.bendzsa@ca.ibm.com
Infrastructure Canada
613-948-1148
Backgrounder
SMARTER CITY TECHNOLOGY AIDS ASSET MANAGEMENT IN CAMBRIDGE
The City of Cambridge is using IBM Maximo software implemented by partner Createch to help manage its intelligent infrastructure, facilities and equipment for several key municipal services. These include operations and maintenance of water mains, sewer systems, drainage networks, roads and sidewalks, and staff deployment for winter storms, inflow monitoring, pipe inspection through closed-circuit television and traffic volume monitoring.
Specific City projects include:
Work Management: A new infrastructure management system so the City can effectively track repairs, resource utilization, and costs. This system ensures that repair and pro-active activities are monitored to ensure work is getting done and identify when resource and budget shortfalls need to be addressed. The records produced by the system support overall life-cycle planning activities and resource management.
Traffic Management: Traffic counts are conducted by instrumentation in the field and automatically loaded into the system along with collision records to do safety audits to help determine the need for changes in intersection design, speed limits, and traffic control. Traffic information is also automatically used to classify roads to prioritize repairs.
Mobile Computing: The City uses mobile applications for inspections to record observations, issues and defects. The mobile computing information automatically creates repair work orders, monitors the status of work orders and tracks a timeline of when the defect was first identified, its current status and the date of repair. Once the defect rates on assets reach certain threshold values, they are triggered for consideration of capital renewal or re-mediation.
Digital Infrastructure Management: Digital closed circuit television robot units crawl through sanitary and storm pipes to inspect structural and operational condition of pipe assets. The video and data is automatically loaded back into the system. Defects that need immediate attention generate a work order. Higher defect rates will trigger capital renewal/rehabilitation projects.
Date modified: