ARCHIVED - Government of Canada Supports the East Hants Sportsplex Expansion Project
Archived Content
Information identified as archived is provided for reference, research or recordkeeping purposes. It is not subject to the Government of Canada Web Standards and has not been altered or updated since it was archived. Please contact us to request a format other than those available.
Lantz, Nova Scotia, June 13, 2010 – Scott Armstrong, Member of Parliament for Cumberland–Colchester–Musquodoboit Valley, today announced that the Government of Canada is making the East Hants Sportsplex Expansion project a priority for federal funding consideration.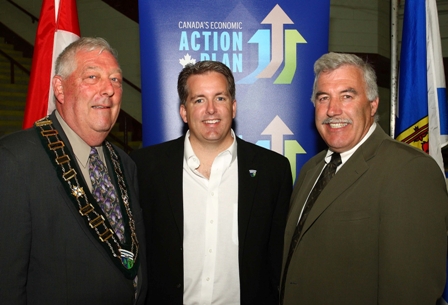 "Here in Lantz, the Government of Canada is helping to create jobs and support the economy during the second and final year of Canada's Economic Action Plan," said MP Armstrong on behalf of Canada's Minister of Transport and Infrastructure. "With today's support for the expansion and renovation of the East Hants Sportsplex, our government is helping to improve the quality of life of workers, families and the community today and for years to come."
The East Hants Sportsplex Expansion project will provide services to surrounding communities and accommodate the region's increasing population. The expansion project involves the construction of a second ice surface, a new indoor soccer field house with a walking/running track, a community meeting room and dressing rooms.
"Across Nova Scotia, our Government is supporting important infrastructure projects that are creating jobs, strengthening our economy, and improving the quality of life for Nova Scotians," said the Honourable Peter MacKay, Minister of National Defence and Member of Parliament for Central Nova. "This includes hundreds of projects that we are helping to upgrade or build, such as highways, roads, bridges, arenas, water systems, community centres and more."
The Province of Nova Scotia had previously announced a contribution of $5,632,000. Remaining project costs will be shared by the Municipality of East Hants, the East Hants Arena Association and other partners. Total project costs for the renovation and expansion of the Sportsplex are estimated at $14.9 million.
"We recognize the important role that recreation facilities play in the day-to-day lives of local residents," said John MacDonell, Minister of Natural Resources and MLA for Hants East. "The investment in the East Hants Sportsplex is a fine example of our commitment to make life better for families in Nova Scotia."
"Today's announcement is the final piece of the puzzle that will allow us to move forward with this project," said Tom Hunter, Chair of the East Hants Sportplex Expansion Committee. "We are excited that this new facility will serve a wide demographic within our community and provide a real opportunity for our residents to live an active lifestyle. The expanded facility will be a true gathering place for our community and something they can be proud of."
To learn more about Canada's Economic Action Plan, visit Canada's Economic Action Plan.
To learn more about the Innovative Communities Fund, please visit Atlantic Canada Opportunities Agency.
Contacts:
James Kusie
Office of Canada's Transport and Infrastructure Minister
613-991-0700
Infrastructure Canada
613-948-1148
Deborah Bayer
Communications Advisor
Service Nova Scotia and Municipal Relations
Backgrounder
IMPROVING INFRASTRUCTURE IN NOVA SCOTIA
Canada and Nova Scotia are working together to create jobs and boost the economy while making significant investments that help communities improve their infrastructure.
The East Hants Sportsplex, originally built in 1993, currently houses one ice surface, one multi-purpose room and a women's fitness centre. Upgrades will be made to the mechanical and electrical systems of the current sportsplex, including a new elevator to help make the facility accessible to all, and the paving of the existing parking lot.
The Government of Canada will consider the East Hants Sportsplex Expansion project as a priority for infrastructure funding. The Government of Canada is setting aside up to $3 million with $2 million coming from the Major Infrastructure Component of the Building Canada Fund and $1 million from the Atlantic Canada Opportunities Agency's Innovative Communities Fund. Funding is conditional on the project meeting all of the requirements under the two funding programs and the signing of contribution agreements for the project.
Date modified: