kid

frastructure

How it's done: Recreation Complex
How it's done
Construction of the Hanover Regional Recreation Complex in Hanover, Ontario
The old arena and recreational complex in Hanover, Ontario, was really old and needed to be replaced. These photos show how the construction workers in that town built a new one.
To learn more about this and other projects in Ontario, visit the Infrastructure in Ontario page.
This photo shows how the workers build with steel beams and columns. These beams and columns are like the building's bones.
Here is another picture of the steel beams and columns; they keep the building strong.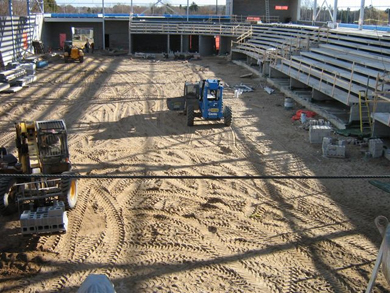 This photo shows the new arena before the roof and floors are added.
Together the workers pour the concrete floor. Soon the concrete will be covered by a layer of ice to skate on.
Now everyone in town has a new place to play hockey, ringette and figure skate.
See other project in how it's done.
Date modified: