Our Deputy Minister -
Louis Lévesque
Deputy Minister of Transport, Infrastructure and Communities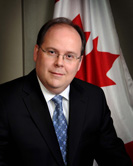 Louis Lévesque was appointed Deputy Minister of Transport, Infrastructure and Communities on November 12, 2012.
Previously, Mr. Lévesque was Deputy Minister of International Trade from 2008 to 2012, and was named as Canada's G-20 Sherpa by the Prime Minister on October 1, 2010. He was Deputy Minister of Intergovernmental Affairs in the Privy Council Office from 2006 to 2008. From 2004 to 2006, he served as Associate Deputy Minister with Finance Canada.
Mr. Lévesque began his career with Quebec's civil service in 1983 as an economist, first with the Crop Insurance Board and then with the Ministry of Finance. In 1991, Mr. Lévesque joined Finance Canada, where he held such positions as Director General, Economic and Fiscal Policy Branch, and Director General, Tax Policy Branch. From March 2001 to October 2002, he was Deputy Secretary of Intergovernmental Operations at the Privy Council Office. In 2002, he returned to Finance Canada, where he served as Assistant Deputy Minister in the Federal-Provincial Relations and Social Policy Branch until 2004.
Mr. Lévesque was born in the city of Québec. He studied at Laval University, where he earned a bachelor's degree in Mathematics and a master's degree in Economics.
Date modified: